The Stadtwirtschaftportal provides news and services from Darmstadt's municipal corporation
The Darmstadt im Herzen app provides information on current events and trends in Darmstadt as well as on offers and services provided by the Stadtwirtschaft.
One portal – one source of information

To make togetherness in Darmstadt and in the neighborhood more lively, to set impulses for more sustainability in everyday life
and to promote local partners as well as to know what Darmstadt offers in terms of quality of life: These are the goals of the Darmstadt im
Herzen app – the local neighborhood app for Darmstadt.
Whether energy, affordable housing, public transport, cultural offerings, waste disposal and much more – the companies of Darmstädter Stadtwirtschaft provide Darmstädter*innen with high-quality services of general interest on a daily basis. With their diverse range of services, the municipal companies make a major contribution to the high quality of life in the city and region.
At
wwww.darmstadtimherzen.de
or as a mobile app via an app store: The portal presents the performance and service of Darmstädter Stadtwirtschaft according to business areas and provides target-group-specific offers for students, families, professionals, senior citizens or people who only live temporarily in the City of Darmstadt. Webcams, free apartments, vacant jobs and much more – all this is also available on Darmstadt im Herzen. By the way: Darmstadt residents can explore the regional association landscape in the
association register
and find the ideal association for them.
Compact overview of special topics in Darmstadt
– Getting to know the city group
Further information on municipal services in the area of city management/provision
Neighbourhood map
Neighbourly help
Citizens
Visitors
Cooperation partners
Online since the beginning of 2019

Darmstadt im Herzen
Prof. Dr. Klaus-Michael Ahrend (HEAG Holding AG)
Recognising false identities, links and websites
'Suddenly, my personal data was encrypted – photos, personal files, simply everything on my computer,' reports one Darmstadt resident. 'And a ransom was issued to unlock my computer again.' The man did not pay, following the recommendations of the Bundeskriminalamt (German Federal Criminal Police Office), which in such cases advises not to accept the ransom demand, to photograph the extortion message on the screen and report it to the police. Fortunately, the Darmstadt resident had only recently backed up his data externally. This enabled him to restore the entire computer without major data loss. Whether it was a careless click on a link in an email, a malicious download or a visit to a fraudulent website – he was unsure how criminals had gained access to his computer.
With the free online seminar entitled 'You Are the Firewall – Stay Vigilant, Darmstadt!', Smart City Darmstadt wants to prepare as many people as possible in the city and beyond to prevent such attacks. 'Almost everyone has a computer these days, but nobody really teaches us how to use it safely. A wrong click can be very expensive', says Alex Wyllie from IT-Seal. Founded in 2016, the cybersecurity start-up is now considered one of Germany's leading providers of security culture and security awareness training. With Smart City, Germany's first free local cyber security campaign was developed and made available online – making Darmstadt a pioneer in IT security training. Attendees receive a series of emails over a course of several months to get to know many of the devious tricks online scammers use in real life – including set traps that, in this case, do not lead to misfortune.
'The digital world is not going to disappear – we need enlightened users'
The premise is that an eight-year-old should be able to understand the training as well as a 77-year-old. 'The digital world is not going to disappear – we need enlightened users', says Wyllie. And they need to know the tricks that cyber criminals use to target typical behaviour in everyday situations and exploit the curiosity, helpfulness and sometimes thoughtlessness of their victims to access money or valuable data. One example may be someone purporting to be a student asking you to take part in a survey through a provided link. Attacks by criminals may also include requests from online services to verify contact details or a notification regarding a supposedly full inbox with easy access to more storage space via a link. Over time, the learning modules help participants better identify digital traps. Using vivid images and short video clips, they learn how to recognise a fake link. They learn the tricks criminals use to gain their trust. Small training sessions help they verify and consolidate what they have learnt.
'IT security isn't that difficult. But it's important to remain vigilant, not to be naive and not to trust everyone online', says Wyllie. "We want to help as many citizens as possible receive training in Darmstadt and, if possible, throughout Germany.' At the same time, this also leads to more company employees being trained. 'And there are fewer successful cyberattacks in private and corporate environments.'
Alex Wyllie
Managing Director, IT-SEAL GmbH
Hilpertstraße 31
64295 Darmstadt
Tel.: 06151 / 4938990
An easy and secure way to meet virtually
Although Germany had long since recognised its need to catch up with the digitalisation of schools and teaching, when schools were closed in March following the outbreak of the coronavirus pandemic, virtually no one was prepared for months of learning taking place in a virtual environment. This put a halt to opportunities to learn from one day to the next. A Smart City project provides a solution to this problem. It gives schools and clubs, especially during the coronavirus pandemic, the opportunity to switch back and forth between face-to-face meetings and discussions in a virtual space at any time.


Stay in touch with the Big Blue Button and comply with data protection regulations
A Smart City project has once again made a difference. In this case, it ensured real-life teaching scenarios could be provided, even though schools were closed in the spring of 2020 and 2021 and entire classes and year groups had to quarantine in autumn 2020. Following Smart City's principle of making systems and applications usable for Darmstadt's residents and helping them with digital solutions, a project team provides existing and proven software tools for Darmstadt's schools, educational institutions and non-profit institutions – ensuring practicality and security. First of all, there's the Big Blue Button. The video conferencing software was specially developed for use in learning environments and is freely available worldwide as an open-source solution that can be modified to personal needs. Smart City adapted the Big Blue Button to local requirements and has been making it available to Darmstadt schools since spring 2020. 'The advantage over many other tools for video conferencing is that Big Blue Button runs encrypted and on our own servers in compliance with data protection regulations', says project manager Antonio Jorba. 'This rules out misuse of data.' Thanks to the Big Blue Button, the classes of three dozen Darmstadt schools are currently able to remain in contact without having to attend school in person. They can meet in real time for video lessons, work together on documents and also temporarily work together in groups in separate virtual rooms. Parents can attend the virtual consultation day or parents' evenings. Schools in the Odenwald district have taken up an option to use it. While the majority of primary schools in Darmstadt benefit from the Big Blue Button as a solo application, secondary schools use the complete package put together by Smart City for comprehensive online teaching. For this purpose, the Big Blue Button was linked to the Moodle learning platform, a customisable open-source solution that has been used in an educational setting for a long time. 'As a certified connection to Moodle, Big Blue Button is the number one choice among all video conferencing solutions', says Jorba. Schools apply to the State of Hesse for hybrid teaching – a combination of face-to-face and distance learning – and the use of Moodle. The software runs via its education server. In virtual rooms, teachers provide their classes with learning content such as worksheets, videos and exercises. It is the combination of Moodle and Big Blue Button that brings distance learning as close as possible to real-life teaching conditions. In addition to developing and implementing the necessary connections, the Smart City project team is training teaching staff in how to work with them. The advantage of this is that the schools are not left to their own devices, as the Smart City project team manages the high-performance servers centrally. And once the rules have become established in the schools, individual classes or even entire year groups can switch from face-to-face teaching to the virtual space from one day to the next – and back again. Even 16 charitable institutions in Darmstadt – from a sports club for disabled people to the parish – are already using the Big Blue Button for staying in contact virtually. The Darmstadt fire department has also made use of the tool for their training and safety training.
Orientation for individual educational pathways
Acquiring new skills, broadening horizons or improving career prospects. Whatever your goal, continuing your education after leaving school requires you to know what is happening where. The relevant education providers are easy to find. But not everyone is aware that you can do memory training at the Muckerhaus in Arheilgen or attend a floristry course at Hofgut Oberfeld. And what about training to be a city guide or telephone counsellor? Where do you go if you want to become a reading mentor?
From spring 2021, the >> Digital Education Pathfinder will provide a comprehensive overview of adult education opportunities in Darmstadt. Dr Monika Krutsch, Director of the adult education centre Volkshochschule Darmstadt (vhs), has brought two professors from Darmstadt University of Applied Sciences on board for the Smart City project: Dr Pia Sue Helferich and Dr Werner Stork. Working with administration and online communication students, they developed ideas for a digital information platform during a seminar. 'The input from experts for coming up with personas was also important', says Fabian Jankowski, a project manager at vhs. 'We used the personas to think about the sort of people who are committed to using an educational pathfinder of this kind, and what their prerequisites, expectations and intentions are'. With the help of filters in a step-by-step process, users are able to find an educational programme that suits their interests. This can be anything that comes after traditional education and training, which is then sorted into two categories: 'vocational education' and 'education for free time'.
An ever increasing number of diverse educational programmes
From the large selection of education providers in Darmstadt and the surrounding area, around 40 will be covered at the start, opening up a diverse range of educational opportunities. 'There are more and more every day', says Jankowski. 'As soon as the Digital Education Pathfinder is online, even more providers will notice it and contact us'. As its name suggests, the platform is intended to serve as a guide through Darmstadt's crowded educational landscape with further education and training opportunities, courses and workshops. The education providers take care of the registration process for the respective courses or seminars 'We want to show residents of Darmstadt what opportunities are out there that allow them to follow their own educational pathway', says Jankowski. And who knows – maybe the creativity course taken for fun in your free time might be the first steps towards a major career as an artist.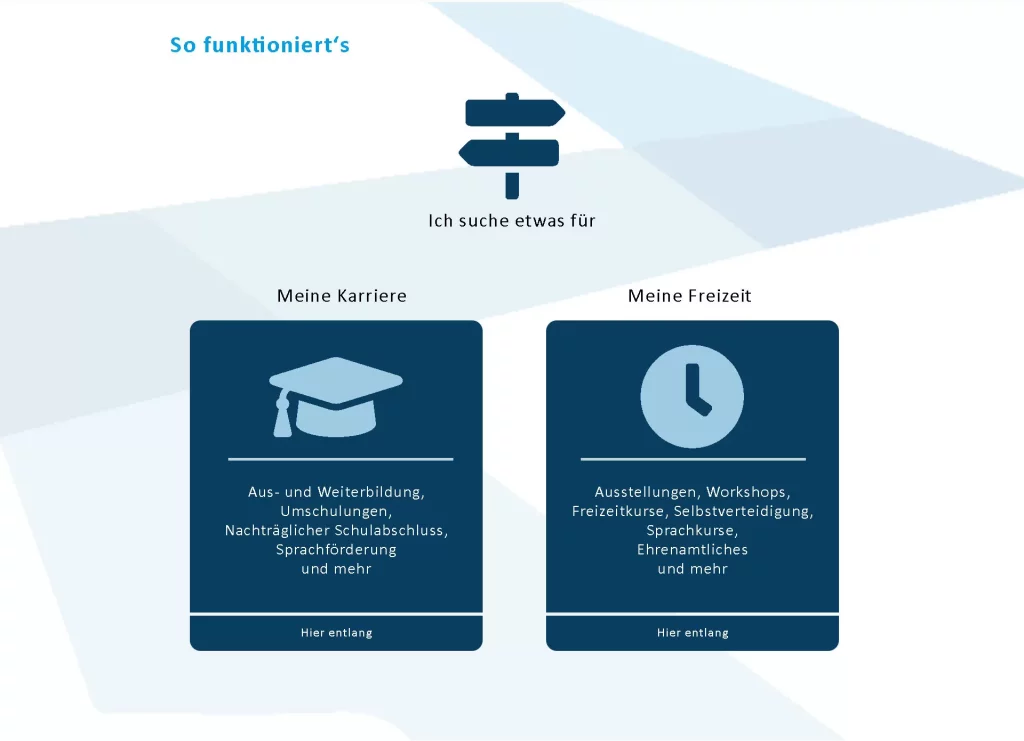 Confident in the digital world
The internet and media have become an inseparable part of our everyday lives. If we can gain a better understanding of how the media world works and how it affects us, we can be more confident engaging with it. With this in mind, the team from Hesse's Institute for Media Education and Communication (MuK) is offering free workshops, training courses and lectures as part of Smart City's House of Media Education project. For example, this has been happening at parents' evenings and student events at schools in Darmstadt, such as the Justus-Liebig-Schule (LIO). 'Year 6 is a critical time for examining the media', says LIO school headteacher Thomas Schmidt, as he explains why 'Media Day' is on the timetable for class this morning. 'When we ask the parents of Year 5 students at information evenings whether their children have a mobile phone, we learn that very few do. But when we ask the same question at the first Year 6 parents' evening, we find that almost every child has one.' This is no different with the current Year 6 students. Without exception, everyone has a smartphone, which they use to write WhatsApp messages, view funny pictures or videos on TikTok or upload their own content, search for homework help on YouTube or watch films on Netflix.
'The money you pay is your data'
'How can all these things cost you nothing? Many people work at the companies that offer all of this and earn money there,' asks media educator and MuK Managing Director Peter Holnick. Smart City project's cooperation partner is met with the shrugging of shoulders. 'The money you pay is your data – because it's interesting and valuable for these companies', says Holnick. 'The more data they have from us, the more they learn about which apps we use for how long, which videos we watch or who we write to, the better companies will be able to understand us – and influence us.' Holnick goes on to tell his astonished listeners about an example from the American online shopping platform Amazon. '[The company] sends people products that they have seen on the website several times – but without ordering them. 70% of these packages are kept.'
The "House of Digital Media Education
The digital city project is a joint project of the social department of the science city Darmstadt and the Hessian Institute for Media Education and Communication (MuK). It aims to enable children, young people and adults of all generations to find their way in today's digital world His media-pedagogical offer focuses on people and not technology For example, this has been happening at parents' evenings and student events at schools in Darmstadt
How does the media work? What tricks does the media use to guide our perception? How
How can the media become dangerous for us? And how can we
avoid that? in order to address these questions, the
LIO Year 5 students were invited to participate in two of five different workshops.
I thought "The Power of Brands" was really cool',
a girl to her friend during the first break about her
workshop experience "I did not know, that there are so many in brands
Hide signs.Crossmedia designer Mareike Biek taught
her about the symbolic world of logos and the role of influencers,
letting her design her own logo at the end. In 'The Power of
the Media', online journalist Judith Michler
We rely 80% on our eyes, even
though they are the easiest to deceive.' Among other activities, she shows images of
people who were either photographed from below or from above
the latter always appear more confident and influential.
'Once we know these things, we are not so easily fooled', says Michler.
A game that causes stress is the wrong choice
It may be the case that a few of the boys didn't pay too much attention when they decided to take part in the 'Health and Gaming' workshop – but they're the right target group. 'I want to find out about some cool games here', says one of participants to the workshop leader Sebastian Mehmel. But the self-confessed 'gamer since childhood' wants to talk to girls and boys about the impact of computer games on their health. The room soon fills with astonishing stories about destroyed screens and consoles being thrown out of the window. 'Above all, gaming should be fun. If it's not fun or creates stress, it's the not the right choice or you're playing it wrong', says Mehmel.
The 'Social Networks' workshop is all about right and wrong behaviour, online bullying and images that are forever haunting the internet. The 'Beautiful New Imagery – Advertising, Media and Role Clichés' workshop with children's author Ilona Einwohlt addresses how media and brands consciously perpetuate gender clichés and thus shape patterns of thought and behaviour. 'Wow,' exclaims one of the boys attending. 'I'm going to pay more attention to that.'
What Peter Holnick says in his 'Lost in the Media World – My Media Biography' workshop applies to all children and young people of this age: 'You belong to the first generation that is growing up in the analogue and digital worlds. It's especially important for you right now to find out who you are and what you want or don't want. And for that, you need those around you. Because most of them are also in the digital world, you also need to learn to understand it and to cope with it.'
CONTACT
House of Digital Media Education
Peter Holnick,
Ilona Einwohlt
Adress
Forstmeisterstr. 11
64285 Darmstadt
Tel.: 0175 9341336
Darmstädter Modellschulen. Bildung in der digitalen Welt
Souverän digital im Bildungsbereich Schule agieren.
Ziel des Vorhabens ist es, drei Darmstädter Modellschulen auf ihrem Weg zu digital souverän agierenden und im Schulalltag "digital literacy" vermittelnden Schulen zu begleiten.
Ziel des Vorhabens ist es, drei Darmstädter Modellschulen auf ihrem Weg zu digital souverän agierenden und im Schulalltag "digital literacy" vermittelnden Schulen zu begleiten. Zu umfassenden digitalen und medialen Kompetenzen aller am Schulleben Beteiligten gehört
der reflektierte Umgang mit digitalen Informationen,
das Erkennen verschiedenster Perspektiven und Interessen und
die Anwendung digitaler Werkzeuge.
Im Projekt werden konkrete Schul- und Unterrichtskonzepte entwickelt. Zugleich werden Kommunikationsprozesse in einer digital geprägten Welt beleuchtet, wie Informationen verarbeitet werden sowie, wie sich die Zusammenarbeit im Bildungsraum Schule wandelt.
Das Projekt "Bildung in der digitalen Welt. Darmstädter Modellschulen" wird im Rahmen eines entwicklungsorientierten Forschungsprojektes im Auftrag der Wissenschaftsstadt Darmstadt vom Arbeitsbereich "Allgemeine Pädagogik mit dem Schwerpunkt Medienpädagogik" der TU Darmstadt durchgeführt.
Modellschulen sind:
Herder Schule
Heinrich-Emanuel-Merck Schule
Bernhard-Adelung Schule.
Am Ende des Projektes im Dezember 2021 werden die Erkenntnisse veröffentlicht. Teilergebnisse werden im Projektverlauf anderen Schulen zur Verfügung gestellt.
Förderung der "digital literacy" aller Beteiligten
Entwicklung von schulspezifischen Medienbildungskonzepten, um den fachspezifischen Unterricht zu gestalten, Orientierung zur übergreifenden Gestaltung des Bildungsraumes Schule zu bieten, mittel- und langfristig für alle im Bildungsraum Schule agierenden Personen handlungsorientierende Funktionen zu haben und somit die hierzu benötigten Kompetenzen.
Erkenntnisse über Schulentwicklung in einer digital geprägten Kultur
Schülerinnen und Schülern
Lehrerinnen und Lehrern
Schulgemeinschaft
Beginn: 4. Quartal 2019
Ende: 4. Quartal 2021
Digitaler Bildungswegweiser
Digital Education Pathfinder for Darmstadt! To provide a compact overview of the many educational opportunities offered by the City of Science Darmstadt, a digital education map is made available to all interested citizens.
Ein digitaler Bildungswegweiser für Darmstadt
Um einen Überblick über die komplexe und vielschichtige Landschaft der Darmstädter Bildungsangebote für Erwachsene zu bekommen, sortiert diese leicht zu bedienenden Plattform (www.bildungswegweiser.darmstadt.de ), die Informationen zu Bildungsorten und Bildungsmaßnahmen der Wissenschaftsstadt Darmstadt klar strukturiert und intuitiv nutzbar. Die Plattform umfasst Bildungsorte, Bildungsanbieter und Bildungsmaßnahmen im Bereich der Erwachsenenbildung und stellt eine objektive, Bildungseinrichtungs-übergreifende Informationsquelle dar. Das Ziel des Digitalen Bildungswegweiser Darmstadts ist es, individuelle Bildungsbedarfe der Darmstädter Bürger*innen mit bestehenden Angeboten quer zu verbinden, um den Bürger*innen einen einfachen und schnell zugängigen sowie kostenlosen Service zu bieten.    Qualifikations- und Bildungsbedarfe werden mittels Filterfragen individuell bestimmt und im Anschluss werden passende Bildungsangebote detailliert angezeigt.   Die konzeptionelle Erarbeitung findet in der Volkshochschule der Wissenschaftsstadt Darmstadt statt.
Transparenz und Übersichtlichkeit über die Bildungslandschaft in Darmstadt
Auskunft über spezifische Bildungswege, Bildungsorte und außerschulische Bildungsorte
Möglichst vielen Menschen Wege zum Lernen anzeigen
Übersicht der Bildungsangebote für Bildungsberate
Bürgerinnen und Bürgern Darmstadts mit verschiedenen Bildungsbedarfen
Multiplikatoren: Fachkräften im Feld Bildungs- und Sozialberatung
jungen Erwachsenen, Erwachsenen, Eltern, Arbeitssuchende, Zugewanderten, Beschäftigten, Arbeitgebern, Erwachsenen mit beruflichen Wechsel- oder Aufstiegsinteressen, Quereinsteigenden, Berufsrückkehrenden, Orientierungssuchenden
Beginn: 2. Quartal 2018
Ende: 4. Quartal 2020
Field of action