STRATEGY
Smart City Darmstadt has its own strategy. This creates a framework for action that integrates all projects into an overall concept, in a structured and targeted manner. The key elements of the strategy are listed below. During the development of the strategy, the residents of Darmstadt were able to participate in analogue and digital form and contribute their thoughts and ideas to the many planned digitalisation projects.

The Smart City is a visionary lighthouse project for the future. Our vision helps us to give a lasting idea of where our journey with Smart City Darmstadt is headed in a concise way. With this vision, we want to inspire foresight and express our spirit of optimism in those it affects. It is the cornerstone of our strategy – and sums up precisely what the Smart City is for us. Our vision brings together different stakeholders from the city, business, science and civil society, making Darmstadt a unique laboratory for innovation.
Smart City Darmstadt's vision
Thanks to new technologies, Smart City Darmstadt is a pioneer and an international beacon for making everyday life easier for people in the city.
In doing so, we are building on Darmstadt's unique reputation of a city of science and culture in order to make it attractive and liveable today and in the future.
Our digital solutions are bringing value to city residents, business and science alike. They offer a secure and confident handling of data, strengthen participation in our community and ensure a more sustainable use of our resources.
Based on the vision, we have identified five core objectives, which represent a benchmark against which all concrete solutions must be measured. We want to become a national pioneer and an international beacon by choosing services that are valuable to our city's residents and are visionary, safe, sustainable and participatory. All projects and plans for a Smart City must be compatible with the objectives and contribute to their realisation so that Darmstadt's challenges can be tackled in a holistic way.
We provide digital and networked offerings and services that create added value for the entire city community. Added value for Darmstadt means saving time and resources for city residents and promoting new opportunities for business and science. As a city community based on solidarity, we make sure that everyone can reap the benefits of the Smart City.
The offers of Smart City Darmstadt are ...

... participatory
The involvement of all residents of Darmstadt in the projects of the Smart City creates broad acceptance for the implementation of the Smart City. We help bridge the digital divide between young and old and accompany people through the digital transformation. Digital opportunities for exchange and participation strengthen our democracy and build a digital civil society.

sustainable
We are leading the way in the use of digital solutions to improve the quality of the environment and of life. In doing so, we focus on ecological, economic and social sustainability and rely on permanently effective solutions. In particular, we attach great importance to resource-saving approaches so that future generations can also benefit from the applications established today.

valuable to us
We provide digital and networked offerings and services that create added value for the entire city community. Added value for Darmstadt means saving time and resources for city residents and promoting new opportunities for business and science. As a city community based on solidarity, we make sure that everyone can reap the benefits of the Smart City.

safe
Smart City Darmstadt's digital solutions must meet the highest security standards and fully protect the privacy of its citizens. Darmstadt already focuses on research and development in the field of IT security. We use this expertise to ensure that new technologies gain the trust of all users from society, business and science and can unleash their full potential. For the stakeholders in the Smart City, this means maximum transparency possible in all processes and no compromises at the expense of data security – secure digital connectivity has to be as self-evident as a stable power supply.

forward-looking
In Smart City Darmstadt, the technologies of tomorrow are discovered, promoted and tested in order to find the solutions that work best for people. To achieve this, we are building on our research and educational institutions as well as our highly innovative economy. As a result, the Smart City keeps its finger on the pulse and is ready for the digital challenges of the future.
To make the Smart City visible as a beacon, we are bundling our projects into three lighthouse themes. This way, we maintain our focus on the vision and remain goal-oriented when planning new projects. The starting point for selecting projects for the lighthouse themes is the projects that are already being implemented or planned and that have an impact on the vision, core objectives and specific challenges in the areas of action. The benefits for citizens, business and science and the implementation advantages of the city management were explicitly taken into account in the selection process.
With the lighthouse theme of Mobility & Environment, we want to make Darmstadt a digital pioneer in the compatibility of mobility and sustainability. In doing so, we rely on intelligent, intermodal mobility solutions that protect the environment and use our resources carefully through connected and efficient energy consumption. Intelligent and needs-based mobility services help our 120,000 public transport users and 75,000 cars to get around the city without any problems, while reducing traffic and protecting the environment.
We provide intermodal transport services that our citizens can combine to form an individualised mobility chain according to their requirements. The electrification of the transport sector is also being promoted and expanded. These are supported by intelligent solutions for the sustainable provision of energy for electromobility, households and companies. The exchange of information on energy generation will be improved to this end. In order to guarantee sustainability for future generations, we promote the reprocessing of important resources. We are committed to climate protection as a cross-cutting issue by reducing energy consumption and carbon emissions through intelligent control systems.
We see ourselves as a leading digital service provider for citizens for an efficient, safe, healthy and supportive community. In the lighthouse theme of Digital Services & Society, we are modernising provision of our municipal services of general interest and strengthening our urban community and the digital skills of all Darmstadt residents through digital participation and education projects. Our administrative services and information are comprehensively digitised and provided via an e-government portal with a personal service account. Our educational initiatives help Darmstadt residents of all ages and social backgrounds to become fit for digital work and everyday life.
With our cultural activities, we want to make Darmstadt's cultural assets digitally visible and convey information easily. In the healthcare sector, we want to bundle digital applications with a comprehensive healthcare platform and connect patients with healthcare providers more efficiently. We are strengthening social cohesion in the neighbourhood and the entire city with new digital meeting places. Through the use of new technologies, emergency personnel are brought up to date with the latest digitalisation in order to be able to appropriately act preventively and reactively and thus strengthen public safety.
The lighthouse theme of Business & Technology characterises Darmstadt as a leading location for digital value creation and the development of new technologies. We offer our companies and our research and education landscape a reliable, modern IT infrastructure for groundbreaking innovations. In doing so, we are expanding Darmstadt's role as a digital hub for cybersecurity and reliable IT solutions, while at the same time strengthening the resource and energy efficiency of the economy through digitalised production processes. The prerequisites for internet connection and data provision are created with the necessary IT infrastructure. At the same time, research focuses such as Resilient Cities and 4D Cities will be further strengthened. In retail, access to local retail and service offerings is also being made digitally possible and delivery logistics is being improved. By applying the highest security standards for cybersecurity, the defensive capability of the IT infrastructure is to be guaranteed and further expanded.
Darmstadt is a smart city that provides examples of how digitalisation can solve the challenges of our city today.
As a pioneer in the development towards a smart city, we have always understood our responsibility as a model city to share our knowledge with the public. The knowledge we have gained should help other cities on their way to digitalisation.
For this purpose, the White Book, which was produced by an independent consulting team, is a valuable aid. It takes a look at the philosophy and dimensions of a smart city, highlights four selected projects of the city of Darmstadt and makes recommendations for action based on the results.
Benefit from our experience, read up and feel free to contact us for questions and feedback.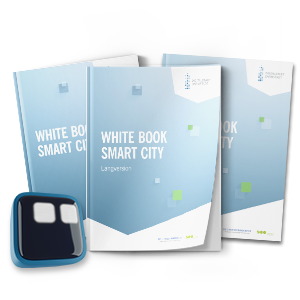 Field of action