Welcome to
the Smart City Laboratory!
A laboratory is being built in Darmstadt,
where digitalisation can be experienced,
understood and shaped.

What is Smart City Laboratory?
As part of the City of Darmstadt's digitization strategy, we have launched a Smart City Lab for Digitization. In order to experience and try things out, to reflect together, to network and to co-create, we are entering into an exchange with citizens and interested parties with the Digital City Laboratory. In this way, people can experience live in the city lab how digitization is changing our world – with the Mobile City Lab even location-independent and flexibly deployable.
Our vision is that more people can benefit from the advantages of digitization. Together, we want to make everyday life in Darmstadt even more livable. To this end, we are working with Darmstadt's stakeholders to develop services and projects in which citizens can find out about digitization, try out technologies, acquire digital skills, and participate in future projects.
Provide information about current digitization projects
Networking actors and being close to citizens and interested parties
Promote constructive discourse and exchange
Impart knowledge and competence
Support co-creative exchange of ideas and projects
Who is the Smart City Laboratory for?
The City Laboratory is currently under construction. It is open to everyone who is interested in digitization in Darmstadt. It is intended to be a common place for constructive exchange and design. To make this possible, we rely on the expertise of a growing community of committed citizens and experts.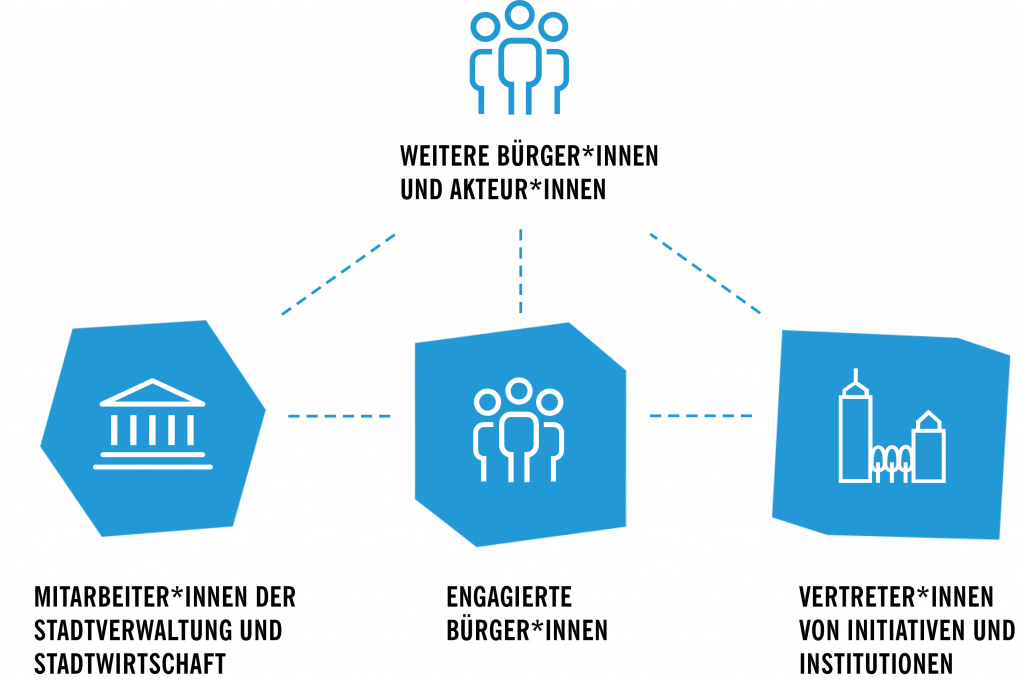 Do you have questions about digitalisation, want to learn new things or help shape them?
Then you've come to the right place! In the city lab you can experience how the
digitization is changing our world. You can playfully learn new technologies
try out and expand your knowledge. And you are invited to participate yourself in the
Participate in the development of future projects!
Meet experts and specialists, leisure tinkerers and interested people. Get informed, exchange ideas and network.
Would you like to get involved in the Smart City Laboratory? Feel free to contact us personally to learn more about the possibilities.
Answers to frequently asked questions about the Smart City Laboratory
Together, we want to make everyday life in Darmstadt even more liveable through digitalisation. The Smart City Laboratory is intended as a platform and a place of knowledge and creativity for digitalisation as well as a commitment to Darmstadt's reputation as a city of science.
Here, citizens will find information and opportunities to participate in all aspects of digitization. And they can exchange ideas with the players in Darmstadt's digitization projects. The Smart City Laboratory is a space where we constantly learn with and from each other.
The City Laboratory creates spaces and occasions for experts and citizens to expand their knowledge, develop innovative ideas and tackle challenges that are forward-looking for the City of Science Darmstadt.
Designed as a digital and analogue location, the Smart City Laboratory develops online and analogue offers and formats – for the city by the city.
Digital competencies of all citizens are already essential today, for example for participation and justice. But "How does digitization work? And which technologies help with various challenges?
As part of Darmstadt's development into a smart city, the task of the Smart City Laboratory is to make the hard-to-grasp concept of digitalisation experienceable, understandable and shapeable. In doing so, it acts as:
… a place of knowledge, experience and participation: for the shared responsible digital transformation of the city by the city.
… a space for dialogue and development: for strong collaborations, constructive discourse and dialogue.
… a platform to create connections: for dialogue, for strong networks and partnerships, and for more synergies.
Together with the actors in the urban laboratory, we develop offers and projects that always enable the active exchange of citizens and impart knowledge and skills. Whether as a venue for scientific lectures or as a creative testing and hands-on laboratory for new technologies: Everyone is invited to experience digitization and join in. The aim is to create a digital culture for everyone.
The Smart City Laboratory is open to anyone interested in digitalisation in Darmstadt.
The development of our (digital) future goes far beyond professional, municipal or economic issues. Digital technologies have fundamentally changed the way people communicate, whether with devices or with each other. At the same time, we are experiencing tremendous growth in information, connectivity and complexity.
The development of the urban laboratory is designed as a co-creative process. In this approach, experts from a wide range of fields work together on ideas and develop projects and offer formats.
We started in 2020 with a series of interviews and digital co-creation workshops around Darmstadt's digitization – on ideas, wishes, resources and needs. This enables us to be close to them and to develop offers that meet their needs. This resulted in the first pilot projects. You can learn more about the projects → here.
Für die ko-kreative Entwicklung des Stadtlabors hat die Digitalstadt Darmstadt eine Reihe von Organisationen und Personen eingeladen, am Stadtlabor mitzuwirken oder Mitwirkende aus ihrem Umfeld zu empfehlen. Dabei haben wir großen Wert darauf gelegt, dass die Mitwirkenden aus verschiedenen gesellschaftlichen Bereichen kommen und sich in Initiativen, Institutionen und Unternehmen für Digitalisierungsprojekte in Darmstadt engagieren, die vor allem dem Gemeinwohl dienen.
In this way, an innovative circle of actors has emerged who, within the framework of their civic engagement, participate in the conceptual development as well as in the projects of the urban laboratory. They bring a wide range of competencies from education, science, culture, (urban) business, administration and society to the urban laboratory.
We would like to thank all those who are active and support us!
The city lab is what we make of it together!
The city laboratory is being developed step by step. The City Lab team is the right contact to find out when and how the next entry is easiest. Simply get in touch with us. We are looking forward!
Field of action