Kompakte Informationen und Angebote gebündelt in der Darmstadt App
Whether information for tourists, about events, sights or gastronomy – the digital Darmstadt app provides quick and easy access to information from and about Darmstadt via smartphone.
Was macht Darmstadt aus, was bewegt Darmstadt, was ist los in Darmstadt? Ob Informationen für Touristen, zu Veranstaltungen, Sehenswürdigkeiten oder Gastronomie – die digitale Darmstadt App ermöglicht einen schnellen und einfachen Zugang zu Informationen aus und über Darmstadt.
In Zukunft soll die digitale Anwendung für mobile Endgeräte (App) erweitert werden und einen schnellen und einfachen Zugang auch zu Verwaltungsangelegenheiten oder Services für Bürgerinnen und Bürger ermöglichen. Je nach Bedarf und individuellem Interesse können die Nutzerinnen und Nutzer dann Informationen und Module ein- oder ausblenden. Die Darmstadt App ist gleichzeitig Ausgangspunkt für weitere Apps mit Angeboten zu Darmstadt.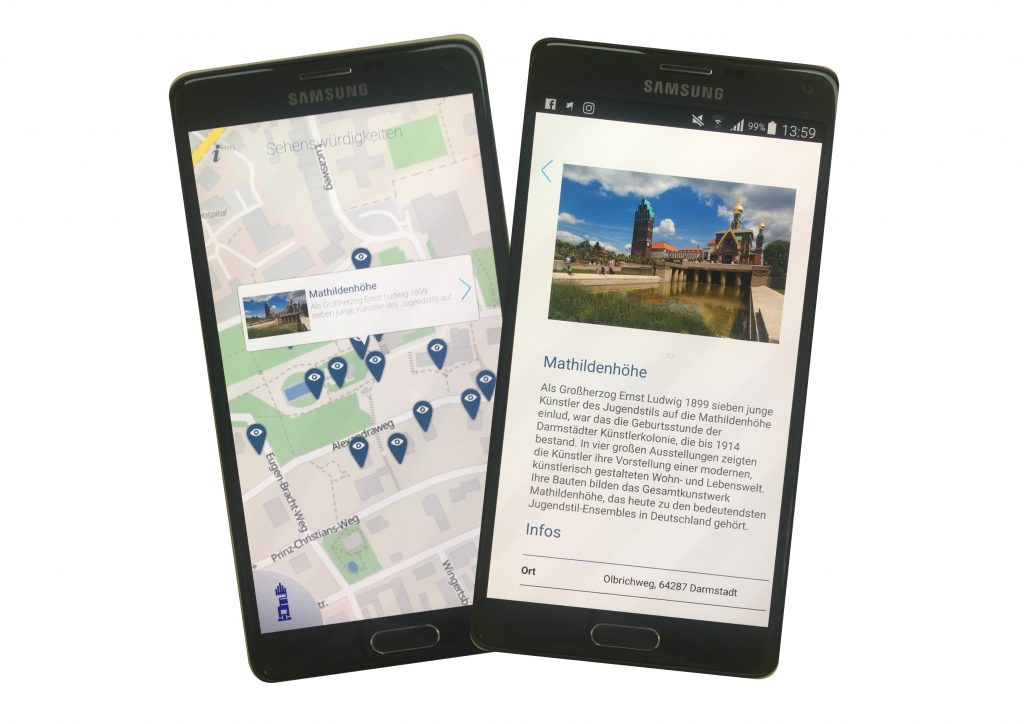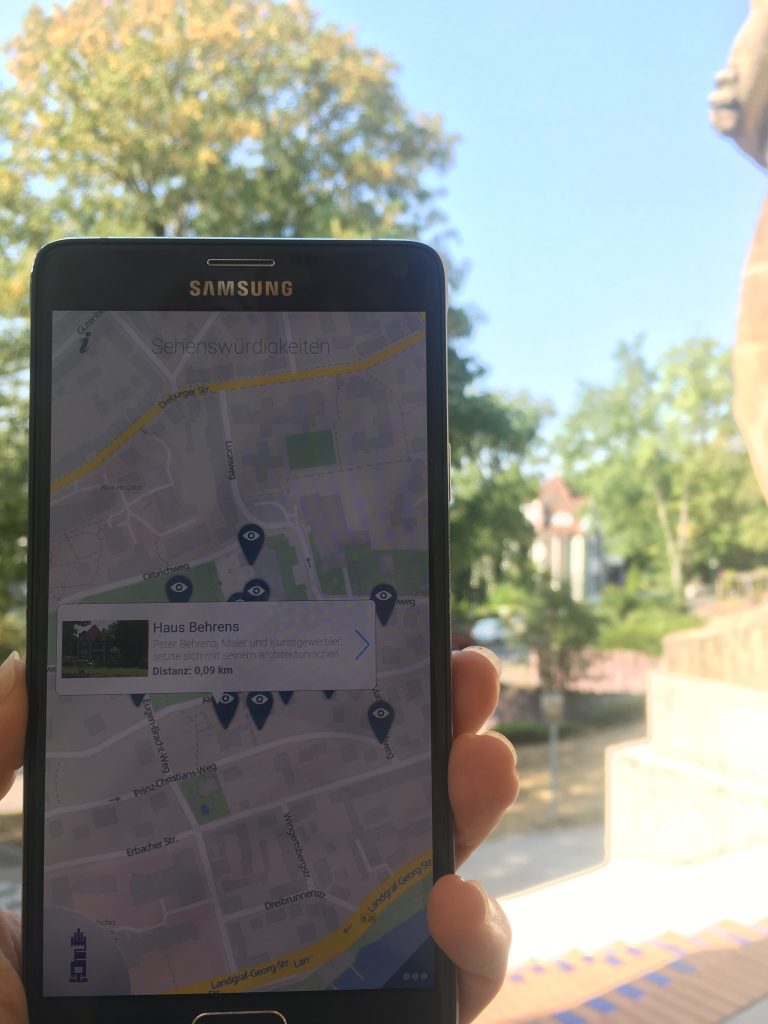 Mehr Informationen und Services (z.B. Einzelhandelsangebote, Informationen für Touristen, Mängelmelder oder Servicekonto für Bürger)
Bündeln von Informationen und Services aus unterschiedlichen Datenbanken in der App und bedarfsgerechte Bereitstellung für Nutzerinnen und Nutzer
Bürgerinnen und Bürgern
Besucherinnen und Besucher
Ist bereits seit Ende 2015 am Markt
Weitere Ausbaustufen: 4. Quartal 2018
Darmstadt App - Bürgerbeteiligung
Unsere Projekte aus den 14 Themenbereichen sind so vielseitig wie die Menschen, die in unserer Digitalstadt Darmstadt tolerant und weltoffen zusammenleben. Auf DAbei.digitalstadt-darmstadt.de zeigen wir Ihnen auch online, woran wir genau arbeiten und wo wir auf Ihre Mithilfe setzen.
Ob beispielsweise im Bereich Bildung, Gesundheit oder Mobilität – gestalten Sie gemeinsam mit uns die digitale Zukunft Darmstadts.
The digital Darmstadt Shop - a new tourist information center at Luisenplatz
Information about the city and its attractions is presented in the Darmstadt Shop using the latest digital technology.
New digital tourist information
Guests often arrive well-informed by using reports on the internet. With the renovation of the Darmstadt Shop, an additional central point of contact has been created for citizens and tourists on Luisenplatz, which is transformed into an interactive experience through the use of the latest digital technology: The digital Darmstadt Shop combines personal advice with digital self-information and offers comprehensive news for visitors to the city.
Those interested can use a multitouch system on tablets for inspiration, explore the city using VR glasses in 360-degree shots, learn tips and tricks for using the Darmstadt app or the interactive Watch my City tour, or get to know the Future History application for their next excursion to Mathildenhöhe.
The employees offer advice on tourist offers, arrange city tours and sell a range of regional products, souvenirs and event tickets. Visitors to the redesigned tourist information centre can find out all the latest news on two information screens, such as upcoming events and excursion tips in Darmstadt and the region. Screens and tablets were provided by Smart City partner Samsung.
Opening hours: Monday to Saturday: 10 a.m.–6 p.m.
Conversion and redesign of the Darmstadt Shop into a 'digital tourism information centre' with various digital offerings such as touchscreens, mobile customer touchpoints and virtual-reality offerings
Darmstadt will become even more attractive for visitors and citizens that are interested
Citizens
Visitors
Cooperation partners
Start date: Early 2019
End: Autumn 2019
Darmstadt Shop - Citizen participation
Our projects from the 14 thematic areas are as diverse as the people who live together in our Smart City of Darmstadt in a tolerant and cosmopolitan way. At "DAbei.digitalstadt-darmstadt.de", we also show you online exactly what we are working on and where we are counting on your help.
Whether in the field of education, healthcare or mobility, for example – shape Darmstadt's digital future together with us.
Field of action