Great climate - thanks to data
Climate change is a reality and there is no question of humanity's involvement in it. So that we can lead a more climate-friendly lifestyle in our city, Darmstadt has developed a climate protection concept that brings together a wide range of projects and measures. Improvements are also being made to the concept all the time. The urban climate report produced in the course of this project shows summer heat islands and areas of cold air that provide relief. It allows urban planning to be carried out with climate protection and climate adaptation in mind.
Five projects in Smart City Darmstadt could also contribute to improving the urban climate in the long term. They all use Darmstadt as a real-world laboratory to test and refine technologies and gain experience with their use.
Vast range of environmental data provides a more accurate picture
For a start, the city planned to have its own environmental sensors. The Hessian Agency for Nature Conservation, Environment and Geology (HLNUG) only has two measuring points: one on Hügelstraße and another at the Rudolf Müller facility on am Woog. These failed to provide a detailed overview of the climate situation in the entire city area. The technology used for this also takes up a lot of space. It is housed in large containers and delivers its data in intervals that are too long. This prompted the city to start installing its own network of digital environmental sensors. They take up considerably less space and now measure air quality not only at the key points of Heinrichstraße, Hügelstraße and Kasinostraße, but also at a further 13 locations throughout the city, including at busy traffic junctions. 'For this, we only need a 230 V connection and a mobile network, providing us with plenty of flexibility whenever issues come in,' explains Ralf Tank, an employee of the Mobility department. Equipped with their own SIM cards, the sensors transmit their environmental data to the city's analysis platform at minute intervals via the UMTS mobile communications standard.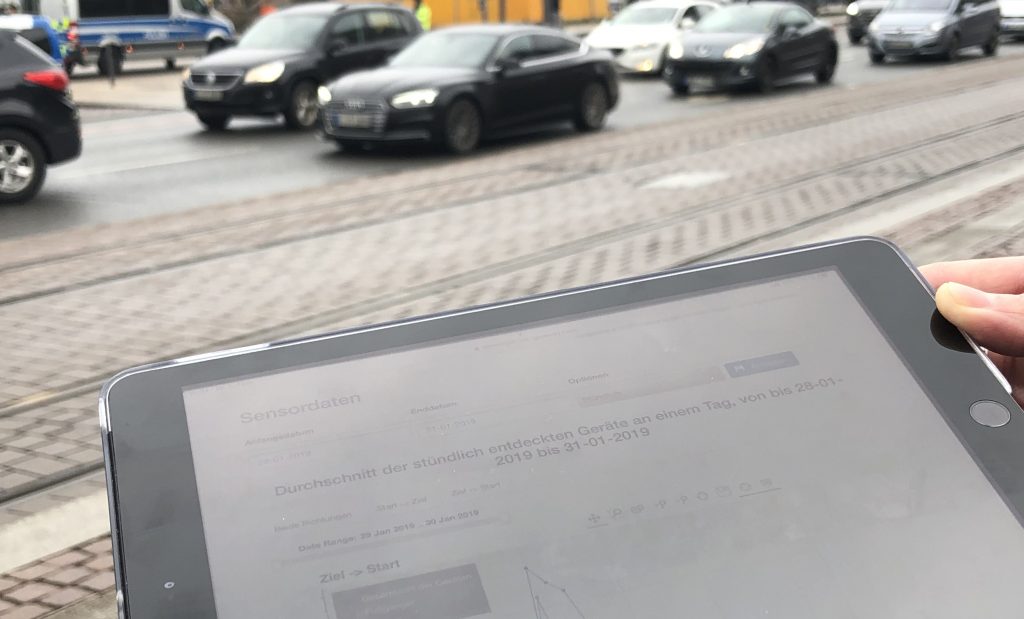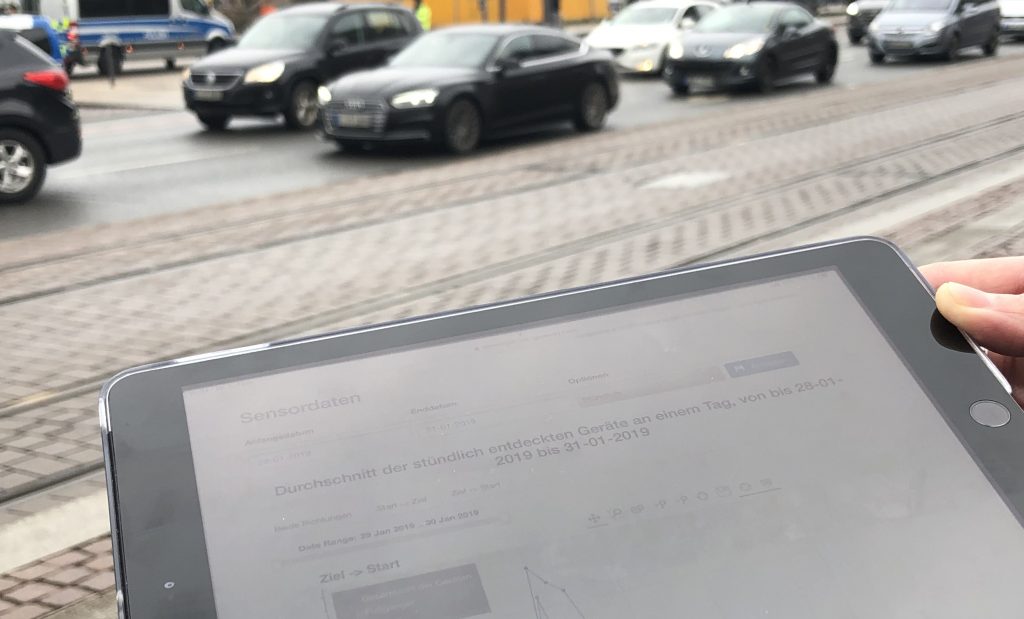 The City Tree cleans, cools and measures
Close to the environmental sensors, the CityTree created by the Berlin-based start-up Green City Solutions whirls away quietly in front of the darmstadtium from time to time, improving the local microclimate. It has been there since autumn 2019, filtering up to 3,500 cubic metres of air per hour with its moss modules. This equates to the air inhaled by up to 7,000 people, which it frees from particulate matter. After all, moss thrives on what people consider to be pollutants. Thanks to its fine branches, the surface area of moss is also much larger than the two surfaces of their carrier modules, which measure more than two square metres.
The developers of the CityTree grow the moss themselves in their own greenhouses and adapt the composition to the climatic conditions of the site where the CityTree is installed',
explains Rainer Wallura from T-Systems, a project partner of the Smart City. Development engineers Florian Kießling and Mathias Brandt didn't give away any clues about the exact composition when they installed the CityTree in Darmstadt. Two mechatronics students watching the installation process during a break in lectures find it 'cool to see something like this in use'.
The moss spreads a pleasant coolness thanks to evaporation, lowering the ambient temperature by up to three degrees Celsius – which should make the benches on both sides of the CityTree a pleasant place to sit, especially in the summer. There is also plenty of technology behind the filter plates and the wood cladding. To create an ideal climate for growth, sensors measure the humidity and activate the irrigation system when it drops below 90%. Next, fans quietly blow a very fine mist against the moss filters. According to T-Systems, the CityTree cools as much as a 1.7 kW air-conditioning system, while needing only 10% of the energy required to run one. His prototype needs water and power connections. 'There are also future plans for a self-sufficient model incorporating a large water tank and solar panels', says Wallura.
An effective alternative where urban greenery cannot grow
Modern IoT technology makes the CityTree an interesting case for the Smart City. It transmits information relating to the filter's performance and condition and environmental climate values in real time. 'This data will be made available to the city', says Daniel Pfeffer from HEAG, which oversees the project for the city. Local Wi-Fi hotspots can also be set up for better connectivity in the city. The CityTree also knows the seasons. If sub-zero temperatures are imminent, its irrigation system is shut down – after all, 'real' plants also cease their activities.
But why not plant a tree on the square in front of the darmstadtium? 'We are located above the underground car park. A tree of this size should never be planted here', says Pfeffer. 'The CityTree is not intended to be an alternative to urban greenery, but there are places like this where you can't just plant anything.' Green City Solutions is also gaining experience with the CityTree in Darmstadt so that the prototype can go into series production in 2020. Further applications are already under development. 'Following the same idea, small cubes for the desk can be used to improve the office climate', says Wallura, when highlighting promising designs. In Wallura's view, further development into panels for facades or underpasses is also conceivable. 'That's why we're delighted that Darmstadt embraces future technologies by allowing them to be tested and developed here'.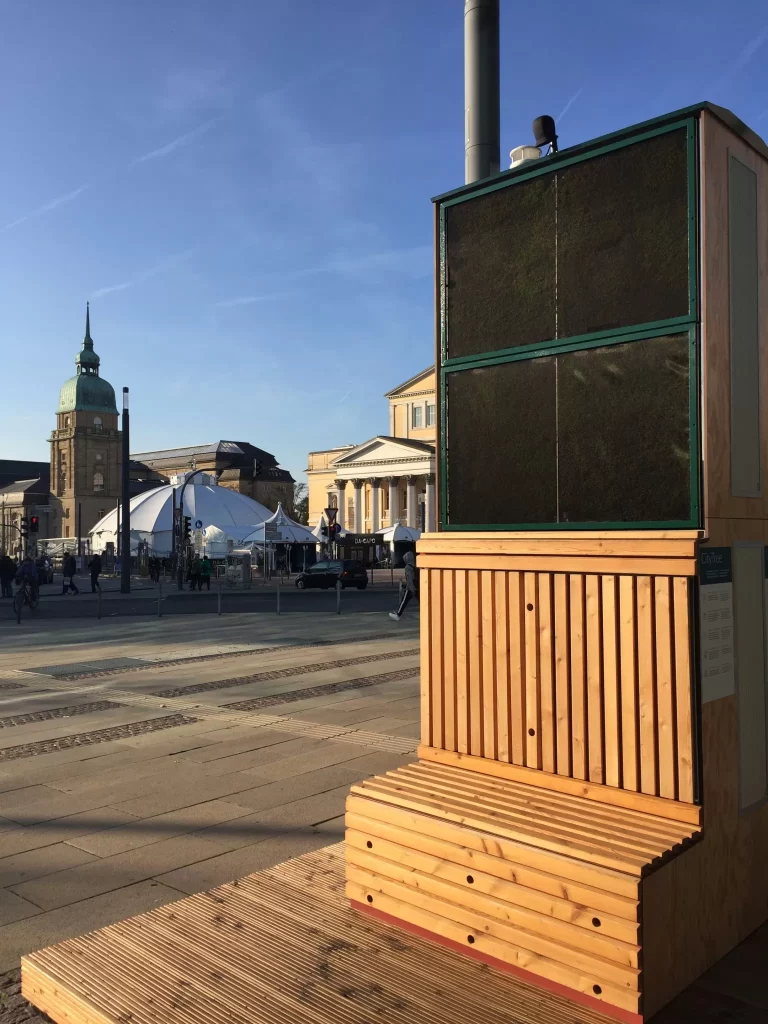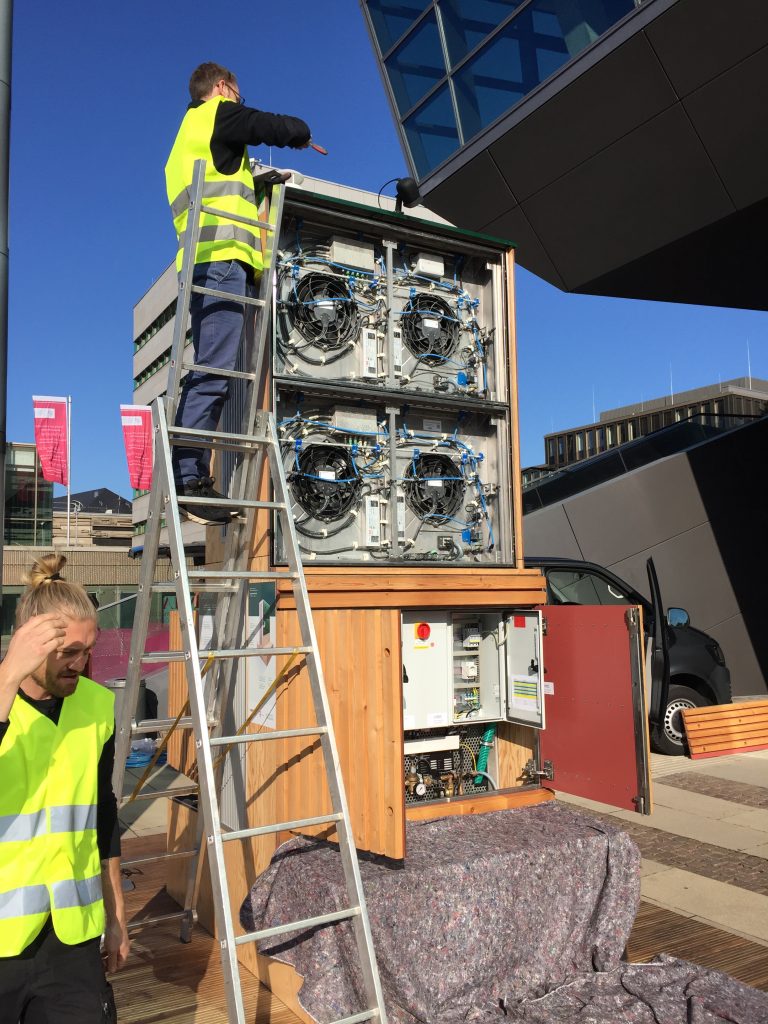 'Made in Darmstadt, brought to market maturity in Darmstadt'
This is how Holger Ebling, project manager at Deutsche Telekom, describes his company's smart measurement network for air pollutants, which was developed with the Darmstadt's Environment department and is currently being tested in the city. Deutsche Telekom uses its own infrastructure for its 17 measuring points. On the streets of Darmstadt, a large number of grey cabinets go largely unnoticed. These are multifunctional service area interfaces, providing households with a telephone connection and internet. There are more than 100,000 of them in Germany. One of their benefits is that they provide a power connection. Employees at Deutsche Telekom's second-largest location in Darmstadt then had a lightbulb moment – why not use these cabinets to measure air quality throughout the country? After a trial period in Science City Darmstadt, thousands of measurement points across Germany could paint a detailed picture of the climate and air pollutant situation in the country. The module for sensitive measurement technology was developed by the Fraunhofer Institute for Integrated Circuits IIS in Coburg. The measurement is purely electrochemical and, according to Ebling, is 90% cheaper to purchase and maintain than the conventional container measurement technology with wet-chemical processes.
As inconspicuous as the multifunctional cabinet itself, the entire measurement technology is housed to the side of it in grey columns. A fan draws in air from the street through a perforated grid at a height of 1.60 metres and guides it past the sensors. The sensors electrochemically determine the air's nitrogen monoxide (NO), nitrogen dioxide (NO2), ozone and particulate matter content. The 12 measuring points in the city and five measuring points in the surrounding area are located on main roads and quiet side streets. 'We also want to identify how pollution spreads and changes as a result of various environmental influences', says Ebling.
The innovative technology for electrochemical air quality measurement is still currently being certified by TÜV Rheinland, an independent inspection agency. However, measured values from the sensors are already being sent to Deutsche Telekom's data centre every five minutes via LTE; this data is made available to the city of Darmstadt in real time. 'The data generated as part of the trial belongs to the city', says Ebling. On the city's open-data platform, the data is merged with the readings from the environmental and traffic sensors in Darmstadt. This provides a more accurate picture for identifying correlations between traffic volume and air pollution. When taking weather data such as humidity, temperature, wind direction and strength into account, it could be possible to forecast the air pollution under certain climatic conditions at certain times of the day on specific days of the week.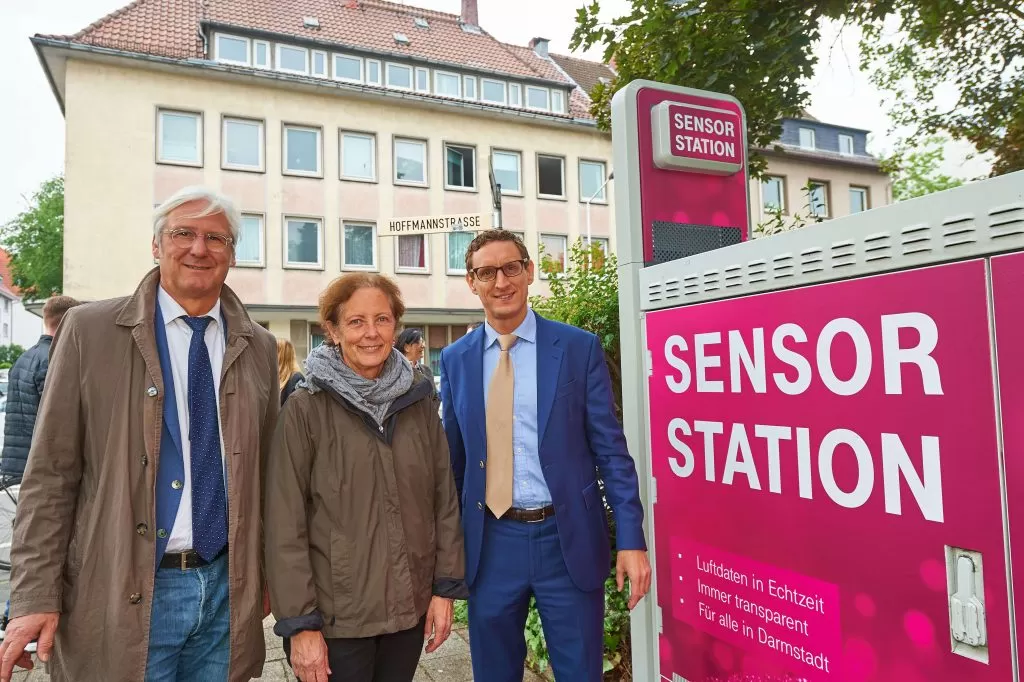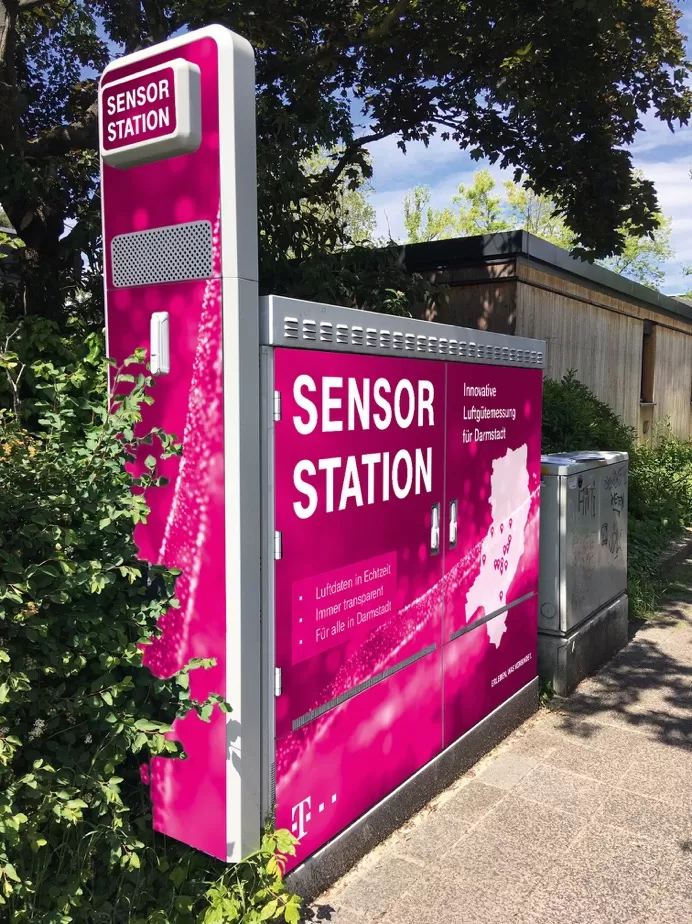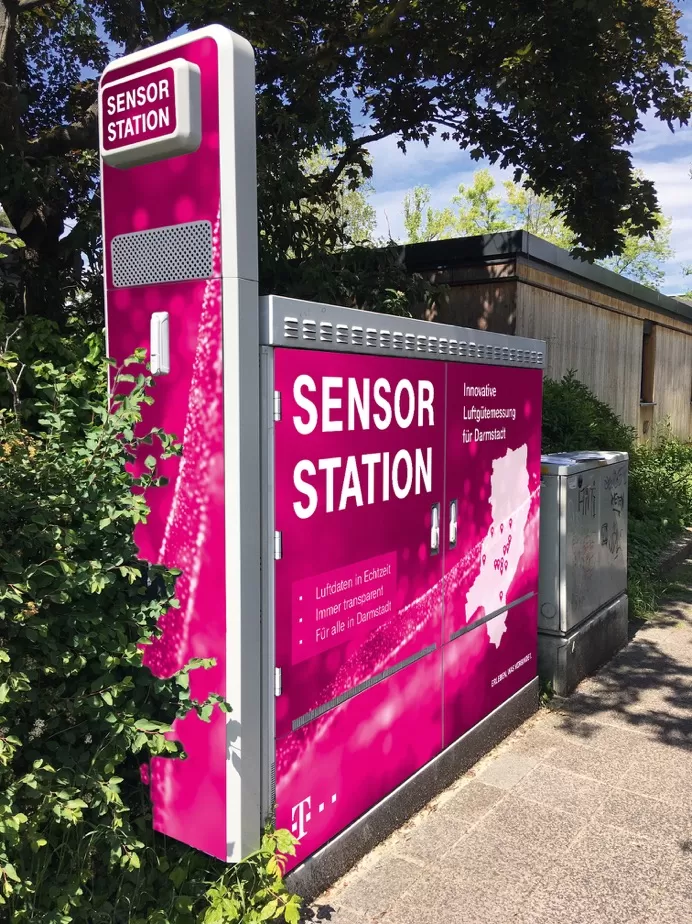 Using climate, weather and traffic data to manage traffic flows
To further refine the overall picture, the city is currently expanding its network of traffic sensors. By the end of 2020, around 40 infrared cameras and additional loops in the road surface will be installed on 14 arterial roads, which will also send their data to the open-data platform in real time via the city's fibre optic network. 'We want to know how many vehicles drive into and out of the city from which direction and at what speed, as well as which type of vehicle is moving at what speed', says Ralf Tank from the Traffic department. All these findings should result in a different way of recording and managing traffic for the benefit of people and the environment. 'We want to move away from traffic management that is solely determined by time to an approach that prioritises environmental protection and incidents', says Tank.
If everything goes according to plan, there should be a smart traffic management system in place by the end of 2022. The system would use the weather forecast as well as expected and actual traffic volumes to manage vehicles around the city in such a way that the exhaust gas pollution from them is kept to a minimum. 'Until now, our traffic management has always been based on statistical and historical assumptions', says Tank. 'In the future, we will know what's happening on the road based on real-time data and will be able to react promptly.' For example, the environmental database will send an automatic notification when limits are exceeded so that traffic flows can be redirected, accelerated or slowed down accordingly. For this purpose, 22 routes were handpicked in Darmstadt's city network, focusing primarily on arterial roads, which can be individually controlled to respond to the conditions. 'We can then give greater priority to local public transport or accelerate the flow on the main roads with longer periods of green', says Tank, while outlining possible scenarios. 'But it is ultimately down to the policymakers to decide what we really do and how we manage traffic flows.'
Traffic guidance system Darmstadt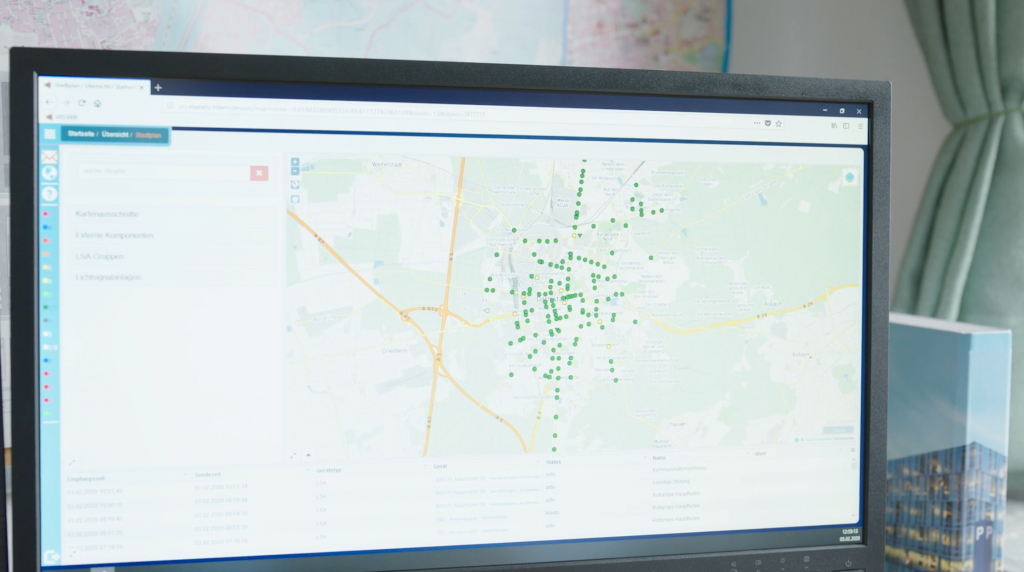 Darmstadt manages its traffic flows with a separate, independent network. 175 traffic lights with their own IP address send up to 20 data records per second via state-of-the-art fiber optic lines, which are also used by 360 thermal and infrared cameras to send their images to the two high-performance computers that together constitute the server.
The two inconspicuous concrete boxes are located somewhere in the city, map all the data and thus safeguard each other: if one fails, the other ensures, unnoticed, that around 95,000 commuters, 25,000 through-commuters and a total of around 163,000 people who travel in the city every day also keep moving. But it also needs such a self-sufficient and strong system so that data flows in real time for modern traffic control – and even traffic apps are only helpful if their data basis reflects reality in real time.