Smartphones are now part of the everyday lives of many senior citizens. But the operation of the devices is often not self-explanatory. The Mobile City Laboratory of Digitalstadt Darmstadt GmbH supports older people in taking their first steps on the device.
At the end of October 2022, a joint project started in cooperation with the Akademie 55plus and the VHS Darmstadt. In a two-hour basic course, Thorsten Hecht from the VHS Darmstadt explained to eleven members of the Akademie 55plus step by step and in an easy-to-understand manner how to use their own Android device. The course instructor was supported by Nancy Teichmann and Anne Weisel from Digitalstadt Darmstadt GmbH, who assisted the participants with individual questions.
The content of the two-part series of events in the lecture rooms of the Akademie 55plus was geared to the questions, wishes and interests of the course participants. Topics were, for example, the final deletion of apps or the management of notification sounds.
On the first day of the course, the seniors gained increasing confidence in using the basic operation of their smartphones. Among other things, important settings and functions of the device were explained. Questions such as "What is the difference between WLAN and mobile data?" or "Where can I find which setting in my device?" were also answered during this morning. The participants quickly realized that some settings and functions visually differed from device to device. However, all ambiguities were quickly resolved in a joint meeting. Managing contacts and photos was also part of the first day of the course.
On the second date, the members of the Academy 55plus were able to practice making phone calls and writing short messages. Another big topic was the navigation and use of the Play Store. "How can I tell that an app is free?" or "Which provider is trustworthy?" were two of the important questions asked by the course participants. In addition, some useful apps, such as online map services, the online encyclopedia Wikipedia or free radio apps were introduced and their installation on the user's own device was explained.
In 2023, the Mobile City Lab will again be a guest at the Akademie 55plus and offer further support services.
Some seniors need support in using their own smartphone to make it a useful helper in everyday life. Volunteers in geriatric care in particular are often approached to help out with individual problems with the device. They themselves are not always in a position to provide pedagogically sound guidance. The Mobile Stadtlabor therefore supported volunteers from the Muckerhaus Arheilgen in offering targeted help with smartphone-related questions and acting as multipliers to help older people find their way safely in the digital world.
The course was led by Thorsten Hecht from the VHS Darmstadt, who was actively supported by two employees of Digitalstadt Darmstadt GmbH (Nancy Teichmann and Anne Weisel).
In the two-hour opening session, the twelve participants first learned about the pedagogical basics of teaching smartphone content. "How can I help them overcome their fear of the new technology?" was one of the questions for which the course instructor gave important tips. Other topics covered on this day included needs-oriented, simple and regular communication of new content, as well as the basics of online security.
On the two subsequent dates, the participants were able to expand their own knowledge on the subject of smartphones. Course instructor Thorsten Hecht showed them, for example, the most important settings and operating basics and gave tips on managing photos and contacts, navigating the Play Store and dealing with apps. Questions about the iOS operating system were answered by Apple expert Steffen Albus.
At the end of the three-day training, the volunteers took away a lot of new knowledge about using smartphones, which they can now pass on to senior citizens in their communities.
At the end of the training program, all participants agreed that the Mobile City Laboratory should come back!
This three-part training program was implemented in cooperation with the VHS Darmstadt.
How does programming work? What professions does the web offer, apart from being a YouTube star? How do you expose fake news? What do you do when faced with cyberbullying? Why is data protection so important? What effect does advertising have on us?
The media camp held at Centralstation on May 17, 2022, under the motto "Fit for the digital future," addressed precisely these issues. Three school classes met media educators and media experts at six stations.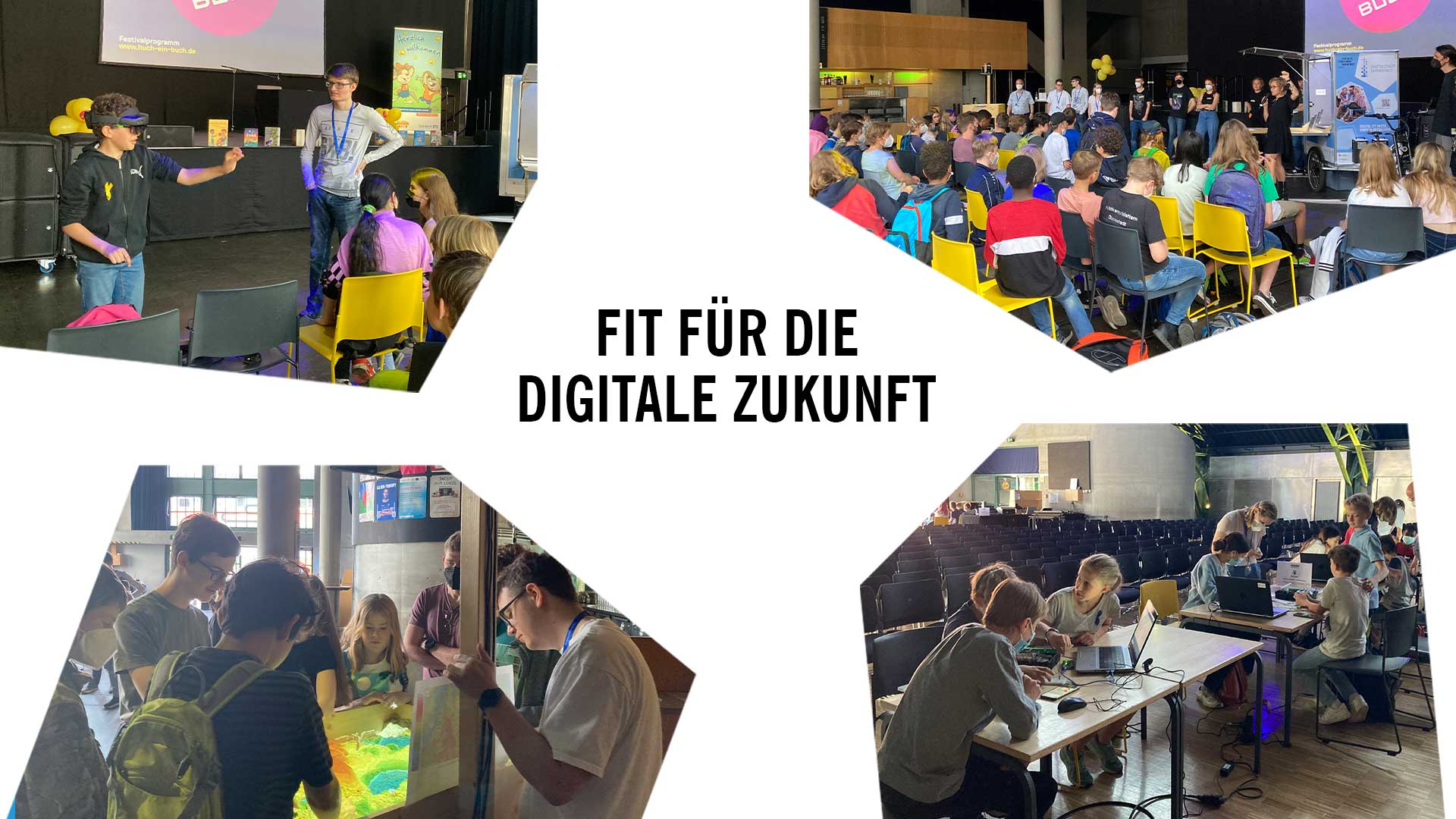 The students were able to let off steam in virtual worlds and programming stations of the Mobile City Laboratory.
Under the guidance of Antonio Jorba, Nancy Teichmann and Anne Weisel, they built circuits on the microcontroller and took their first steps in the world of programming. It wasn't just the LEDs and traffic lights that lit up in the end, it was also the eyes of the eager students, with many of them discovering the joy of electronics, programming and tinkering during the course of the afternoon. They experienced a playful and interactive geography lesson in the augmented reality sandbox, which used augmented reality technology* to project a three-dimensional topographical map onto the sand's surface.
Using their hands and shovels, the students then formed their own worlds with real sand: they created mountains, let it rain virtually and watched as the water flowed down the mountains, gathered in valleys and formed lakes. It wasn't just the students but also the adults who were excited to do some digging in the sandbox. Not only the students, but also the adults had a great desire to dig.
I see what you don't: The young people explored how the real world can merge with the digital world and how it feels to have a full-fledged PC on their noses when they tried out the "HoloLens". These mixed reality glasses* project holograms, multimedia content or information into the field of vision. The students were fascinated by controlling the HoloLens using gestures, head and eye movements, and voice commands, and painted a virtual graffito, for example.
After about four hours, an exciting and educational media camp came to an end for the students. The children were enthusiastic and had fun. Unanimous summary: "That was cool" and "it was fun".
The Mediencamp event was held in cooperation with the Institute for Media Pedagogy and Communication.
* Augmented reality (AR) is a computer-aided representation that expands the real world with virtual aspects. Objects in front of the human eye are combined with complementary virtual information, which can be seen, for example, via a smartphone
Yesterday, on 8 February 2022, a joint project was launched by the Haus der digitalen Medienbildung(#HddM) and the Mobile City Laboratory in Smart City Darmstadt.
Students of Year 6 of the Darmstädter Herderschule are experimenting with bean and cress seeds on the topic of climate change and are building a computer-controlled irrigation system using sensors, buzzers and light-emitting diodes. Antonio Jorba, Anne Weisel, Nancy Teichmann (Digitalstadt) and Ilona Einwohlt (HddM) explain to the students how this works with an exciting experimental setup. The digital student experiment is documented with film and photos.
'How cress grows on Mars' is a media project on the topic of digital tools at the Herderschule of the Haus der Digitalen Medienbildung and the Mobile City Laboratory of Digitalstadt Darmstadt GmbH. The children learn programming for the first time with the microcontroller (Arduino) and the Funduino XXL learning kit.
Image gallery / Impressions

---
How-to / Recording
Who better to provide information on what content and topics relating to digital life are important to children and young people than the people affected themselves? The very people affected, of course! And so in mid-October 2021, Smart City Darmstadt's core team of Mobile City Laboratory technicians set off on their electric cargo bikes for HEAG-Häuschen, a meeting place for children and young people in Darmstadt-Arheiligen (www.heag-haus.). On this day, a media education afternoon was held by the Haus der digitale Medienbildung (HddM, https://hddm-darmstadt.de/) with Peter Holnick, an active Mobile City Laboratory team member.
For several decades now, the doors and gates of the former HEAG administration building have been open every afternoon from Monday to Friday for youth center visitors from the age of ten. You will find a diverse program for employment and qualification as well as of course enough space to chill out or play and "hang out" together. Excursions or "special interest" activities also take place, such as acquiring a PC driver's license. This is precisely why the youth center presents itself as a promising networking point for the Stadtlabor.
"An important target group of the mobile urban laboratory are children and young people," Simone Schlosser explained to the youth center visitors on that October day, and Anne Weisel unceremoniously demonstrated the E-Lastenbike along with its teaching materials. "We would like to know in more detail which digital topics are particularly interesting for you, and perhaps also what you don't understand or are critical of when you think about everyday life with digital technology. Which devices and which applications and apps do you use? How important are streaming services or applications (apps) such as Pinterest, WhatsApp and the like for your interaction and could you still do without a smartphone or laptop?" The children and young people as well as three employees of the HEAG-Häuschen discussed intensively with the Stadtlabor team and together they considered which Stadtlabor offers could be co-designed by the HEAG-Häuschen kids. Of particular interest was the topic "Darmstadt in 3D" or the idea of rebuilding the entire city or certain places in the computer game Minecraft and getting creative with it. The ideas and suggestions that were collected are to be incorporated into the program of the mobile city lab specifically for children and young people and are expected to be implemented from 2022: Darmstadt's youth will then also be visited by the city lab technicians outside of youth centers with the E-Lastenbike in order to discuss the "digital favorite topics" of the young people. 'digital natives'at their doorstep.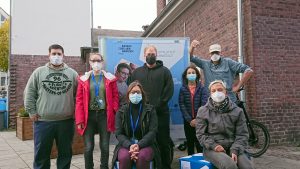 A big thank you to all participants of this afternoon and especially of course to the children and young people as well as the staff of the HEAG house! Without the kind cooperation of the HddM and the opportunity to present the City Lab at their Media Day, this informative and important afternoon would not have been possible. We look forward to continuing to work with you/all of you!
The webinar 'Darmstadt HACKT für Wasser und Umwelt' (Darmstadt HACKS for water and the environment) demonstrated a high degree of creative drive last Friday afternoon: Around 40 participants registered for the 24-hour online event of the Environment/Water participatory project in the Smart City Laboratory to co-creatively develop fresh ideas and concepts for some of the major challenges of Darmstadt's urban ecology. The participants were given 24 hours, and on Saturday afternoon, they got to present their ideas to a jury of scientists and municipal officials. Three winning designs were awarded at the end of the hackathon and all ideas are being incorporated into the design of the 'Smart Cities made in Germany' federal funding programme. Its focus in Darmstadt is on the topic of water and the environment.
The participants worked in eight groups on three predefined challenges, for which solutions had to be developed over the next 24 hours: What could measures in water-sensitive urban development look like? Which green-blue infrastructures could improve the climate and the environment, and how could green buildings be implemented on a large scale?
The concepts developed showed how, for example, the responsible use of water, new ways of planting sealed areas or the use of digital assistants and web portals could lead to making Darmstadt even greener and therefore more liveable.
The results: three winners, three praiseworthy mentions
The jury, which evaluated the eight presentations on Saturday afternoon at the end of the hackathon and selected three winners, found the task far from easy. How solution-oriented, scalable or forward-looking are the ideas? The jurors deliberated their decision for over an hour before announcing the following winners:
First place (€1,000): Groof
An online platform that answers all important questions about greenery and also serves as a platform where new and established facade and building gardeners can meet to discuss plants, garden plots and Darmstadt's flora. (Team members: Inga Dschinger, Lukas Cramer, Robert Kubiek, Joshua Bodemann, Sven Reule)
Second place (€750): Greening our city
The investment concept develops green-blue infrastructures along three different sized building blocks: from mobile beds and tree sponsorships to unsealing projects and the construction of biodiversity-rich city-wide corridors as green-blue veins of the city map. (Team members: Mallinalli Boss, Vanessa Schwickart, Tamina Milius, Daniel Müller, Hana Ataei, Nora Schwarz, Sophie Pfeil for Architects4Future Darmstadt)
Third place (€500): Benches and cans
A participation platform that calls on all citizens to water fledgling urban trees. Rain collection containers and watering cans are to be attached to posts for this purpose. Everyone from the neighbourhood can thus water the greenery in their street. The platform notifies participants if the trees don't get enough water. (Team members: Eva von Monschaw, Paula Grzesiek, Richard Gerspach, Jannik Fritsch, Carmen Aires, Tobias Albrecht)
The participants were visibly impressed: 'Thank you for the great event. We had a lot of fun and are delighted to receive this award,' said the email of one of the prizewinners.
You can learn more about the hackathon and pitch ideas → here in the hackathon reader (PDF)
The electric cargo bike, packed with digital technology and information, took its maiden ride in mid-August 2021 in the large grounds of Darmstädter Werkstätten und Wohneinrichtungen (EDW). People with disabilities from Darmstadt and the district have been working there since 1968. Their job consists of a wide variety of orders from industry and local business, including the manufacture of injection-moulded parts, dyeing technology, landscaping and/or gardens, and assembly and packaging work. Ersan Isgoeren (EDW) explained to the Mobile City Laboratory team that EDW employees receive the best possible support and guidance to carry out these many activities – both on an individual basis as well as in terms of training. The team set itself an ambitious goal for its on-site appointment following the strict lockdowns of the coronavirus pandemic: presenting digital assistants to as many EDW students as possible in an understandable way. The reason being that these new AI-based applications of smart homes and digitalised living spaces are proving to be invaluable in the everyday lives of many people – with or without disabilities. Their function is well known, popular and well established, for example, in the navigation of a car.
And that's how Alexa took to the stage at EDW on that sunny afternoon. Antonio Jorba, an active member of the Mobile City Laboratory, introduced the digital voice assistant: 'Alexa, can you turn the light green or purple for me?' And of course, Alexa could. Not least because the Mobile City Laboratory technicians had packed a whole host of additional parts, such as LED lights and cabling, into the box of their cargo bike and connected them to Alexa on-site. Upon command, she then changed the colour of the lights, from pink to blue to green and yellow, much to the delight of the audience. And even more than having the option of varying the ambience via voice command, the EDW employees were thrilled that Alexa could make different animal noises. A lion roared, a dog barked, and the audience chuckled, visibly impressed.
Lena Cora, an intern in the IT Lab at COUNT+CARE GmbH & Co. KG, explained that Alexa can also make life easier for people with disabilities. Since she was born, Lena has been dependent on a wheelchair and is therefore often restricted in her range of action and movement. This is also the case in her own home, for example, if she wants to use the window blinds. For many years, this was a real problem until Alexa moved in. Together with Toni Jorba, Lena installed Alexa in her home, and Lena worked hard to understand and put the system into operation on her own. And so today, Lena naturally calls Alexa when she wants to open or close the hard-to-reach blinds. She even gives instructions to friends and acquaintances on how the Alexa installation works. Lena is now very much at home in the digital world.
According to Adelheid Wolf, a member of the Mobile City Laboratory project team and also project coordinator of the eponymous initiative at the Social department of Science City Darmstadt, 'Digital for all also means that everyone knows what the Internet or a smartphone is and how to use it.' With this in mind, she created two brochures in plain language with accompanying explanatory videos, which were gratefully received by the EDW team.
The successful launch of the Mobile City Laboratory at EDW is now set for production. Just a few days later, Nancy Teichmann, who coordinated and set up the laboratory premiere, was asked by the workshops to elaborate on digitalisation at EDW together with the laboratory team. In summary: the Mobile City Laboratory had a very successful ride. And if you want to experience digitalisation in a catchy and accessible way, you should look out for the electric cargo bike with the large, light blue charging box in Darmstadt.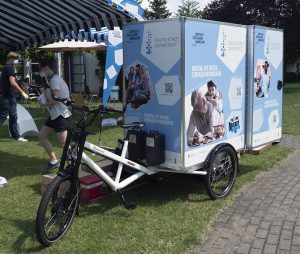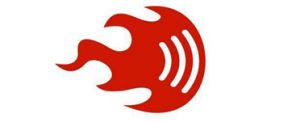 You can't possibly talk about digital education for more than 800 minutes in a span of four hours? Of course, you can! At the Digi:BarCamp 'Education in the 21st Century', the Mobile City Laboratory's first online BarCamp on the second nationwide Digital Day 2021. A total of 18 sessions offered presentations, food for thought, exchange of experiences as well as networking opportunities. After all, digital challenges in the education sector can only be solved by working together. And the diversity of the 45-minute sessions made it clear that there are indeed many challenges to overcome.

The Digital Learning Workshop at the Smart City Laboratory had invited visitors to the BarCamp in order to make contemporary education and learning in Smart City Darmstadt visible and to share knowledge and ideas. There were sessions that presented innovative digitally supported learning formats and techniques, such as blended learning. Others highlighted the opportunities and risks as well as the creative possibilities offered by digital education. Participants were able to attend the sessions flexibly throughout the event, switching between sessions, or joining them later – depending on their interest. That's what makes BarCamps so special: they have an open learning culture and are highly flexible. As ad-hoc conferences, they are ideally suited to work on complex topics and do so on an equal footing.
After a brief introduction and explanation of the various sessions, we got started, with participants switching to their respective online rooms. The option of switching sessions spontaneously was rarely taken up thanks to the extremely interesting topics on hand. For example, during the session 'Digitalisation in education', it was discovered that 'we are headed to the moon when it comes to digitalisation'. That this is not always meant positively becomes clear when you consider that the first moon landing was over 50 years ago. Many things simply take too long, concepts are lacking and submitting applications is far too complicated. Opportunities, on the other hand, were seen in connecting people, including digitally.
And it was also all about opportunities with 'Finally, lend an ear to others again! Choral singing with Jamulus'. At first glance, it does not come across as an educational topic, but singing in a choir trains the brain and is of value across all disciplines. And since the participants were of the same opinion, they used this session to explore how they can sing together in times of limitations. The focus here was on technology – in electronic form on the one hand and in breathing while singing on the other. It's also why various breathing exercises were presented.
Speaking of 'breath', participants of the session 'Artificial intelligence (AI) is a hot topic, but what exactly is it?' had to hold theirs for a long time, as the discussion continued well after the session had ended. It was preceded by an introduction to the topic, a discussion about the pros and cons and an illustration of various examples. It also presented a website with a portrait of a non-existent computer-generated person (thispersondoesnotexist.com).
In contrast, nothing was generated by the computer in the session 'Visual thinking (Sketchnotes) as a universal tool for everyone – digital and analogue'. Here, handmade notes were created with the help of text, images and structures. This is because visuals are often easier to memorise than texts, for example. Participants were able to experiment first-hand how helpful visualising learning and knowledge content is – even while studying– in times of information overload. One participant summed it up aptly: 'Humans are visual animals!'
The session 'Communities and technology providers learn from each other – on the path to responsible digital transformation' also focused on data protection. Here, for example, the digital citizen file was discussed. The aim is to simplify the exchange of data between the authorities. In smaller communities, where everyone knows everyone, this could, however, be met with scepticism. The participants are therefore aware that a number of questions still need to be clarified. And this requires constant dialogue and learning from each other.
They are not alone in their opinion. In the other sessions, too, there could have been more discussion. This in turn shows that many people want to help shape digital transformation – even if it is in a BarCamp format. After all, everyone experienced this on the Friday afternoon: contemporary education in our digitally driven culture only works together!
The hosts:

Content creation – YouTube, Twitch and Instagram in an educational context? Mareike Wagner und Enrico Steuer (Medienzentrum Darmstadt-Dieburg)
The Darmstadt Digital Education Pathfinder – shows you educational paths! Mona Ruch and Fabian Jankowski (students at the Darmstadt University of Applied Sciences and Darmstadt Volkshochschule)
Artificial intelligence (AI) is a hot topic, but what exactly is it? Prof. Elke Hergenröther and Antonio Jorba (Technical University Darmstadt and IT Lab Count+Care GmbH)
Visual thinking (Sketchnotes) as a universal tool for everyone – digital and analogue Christopher Henke
Digital parenting Diana Ciancia and Richard Jordan (Stadtelternbeirat Darmstadt)
Model schools and the media pedagogical case workshop Lars Gerber (Technical University Darmstadt)
How algorithms try to influence our actions: methods laboratory Volker Löw (Büro für Medienbildung)
Learning and experimenting with the Mobile City Laboratory – presentation and brainstorming Anne Weisel and Nancy Teichmann (Smart City Darmstadt)
More presence online – learning strategy and interaction Birgit Swoboda and Elke Spatz-Dascher (Femkom e.V.)
Possibilities of digitally aided teaching at primary level Katrin Senst-Johnen (teacher and IT officer at a primary school)
Rethinking learning – contemporary education at the Erich Kästner School (IGS) Murat Alpoguz (teacher at the Erich Kästner School IGS Darmstadt)
Programming with the CALLIOPE mini – also in distance learning Tilman Happel (Medienzentrum Darmstadt)
Digital change in values – talking to Darmstadt's culture people Ilona Einwohlt (Haus der digitale Medienbildung / MuK Hessen e.V.)
City, country, data flow – the app for more data competence Lena Feilke and Simon Mues (Volkshochschule Darmstadt)
Finally, lend an ear to others again! Choral singing with Jamulus Claudia Nicolai (Academy of Tonkunst)
Do we already need digital education in day care centres? Cordula Kahl (MuK Hessen e.V.)
Digitalisation in education – why is it so difficult? Peter Holnick (MuK Hessen e.V.)
Municipalities and technology providers: connecting and learning from each other – on the road to responsible digital transformation Veneta Ivanova, Hauke Schlüter, Matthias Unbescheiden (Fraunhofer Institute for Computer Graphics Research IGD & House of Digital Transformation)
For some time now, aggressive comments, personal hostility and targeted fake news appear to be on the rise on social media. And even if you haven't been directly affected, you hear more and more about the dangers that come with it. But what are fake news, trolling and hate speech actually all about? And above all, what can be done about it?
The fourth Smart City Laboratory online event focused on the dark side of social media: Fake news, trolls and hate speech – all phenomena of digital communication on the internet that become more pronounced in uncertain times such as the coronavirus pandemic. Why is this the case and what are the backgrounds are experts aware of who deal with hate on the internet? At the beginning, the media educator and youth protection commissioner of the city of Giessen, Thomas Graf, explained with concrete examples how texts and images are taken out of their original context and pieced together again in fake news: the smoking extra from a Russian music video suddenly becomes proof of the 'staging of coronavirus deaths.' Snapshots can be pieced together quickly and easily by clicking and dropping and disseminated on social media with eye-catching headlines. In many cases, however, such correlations can be traced back and quickly retraced by simply searching on the internet. Accordingly, so-called 'fact checks' are the most effective weapon against fake news. How to recognise them, where dangers await and how best to deal with them can be found in the following recording of the reports by Thomas Graf and CORRECTIV:
at a professional level, CORRECTIV – a non-profit organization for investigative journalism based in Essen and Berlin – deals with such fact checks. In the second part of the Smart City Laboratory event, their 'fact checker' Uschi Jonas gave some interesting insights into her everyday work. In doing so, she differentiates between misinformation, which simply contains false information, and disinformation, which aims to deceive and destabilise. An extreme form of this was the so-called conspiracy theories, which are based on no evidence whatsoever.
According to Uschi Jonas, the spread of conspiracy theories and disinformation is mostly based on very trivial motives, such as greed for power or financial enrichment. Nevertheless, both should not be underestimated. By unsettling fake news and fuelling fear and hatred, they threaten the democratic culture of an open society, which is essentially based on the exchange of arguments and the conflict between speaking and replying. Accordingly, it is important to take decisive action against those who spread disinformation or provoke aggressive behaviour. If necessary, you should also seek help – for example, from advice centres, the #hessengegenhetze reporting office, the police or even CORRECTIV.
The two computational linguists Professor Melanie Siegel and her doctoral student Mina Schütz from Darmstadt University of Applied Sciences are investigating how fake news and hate speech might be combated in the future with the help of machines and artificial intelligence. In the DeTox research project, they analyse text content and its specific characteristics, such as choice or words, writing style or tone, as well as its context such as distribution, comments or user group. Aggressive posts and hate speech cannot be identified with absolute certainty, but at least be identified early on as conspicuous messages, which can then be checked manually in a second step. This could significantly simplify and speed up the workload for editorial teams and fact checkers. In this sense, the future of combating fake news, trolling and hate speech on the internet is probably best imagined as an effective interplay between humans and machines. A big thank you goes to all those who are committed to open and secure communication on the internet and thus ultimately our own security and freedom – above all because they are constantly exposed to hostility.
Research from Darmstadt on the topic
About the speakers

Thomas Graf is a translator of digital environments. Since 2005, he has been working as a media education advisor and subject specialist for Hessian ministries and educational institutions. It's particularly important to him that we don't end up in the abyss of social media, but confidently navigating the net.
Melanie Siegel is a professor of information science and, in particular, semantic technologies at Darmstadt University of Applied Sciences. As a computational linguist and language technologist, she has been conducting research and teaching since January 2021 together with other stakeholders in the Hessian research project DeTox on the automatic detection of hate speech and aggression on the internet.
Mina Schütz is an information scientist and, as a doctoral student at Darmstadt University of Applied Sciences, is currently developing an AI tool to better identify fake news.
Uschi Jonas is an editor, reporter and part of the CORRECTIV.Factencheck team. CORRECTIV is a non-profit, independent editorial team that stands for investigative journalism and is specifically committed to combating false information. In doing so, they involve citizens in research and promote media skills.
Dirk Hintermeier is the country coordinator for cybercrime and prevention at the Hessisches Landeskriminalamt.
In the online event in March 2021, the Environment/water participatory project of the Smart City Laboratory was presented to the public for the first time. Cluster 2 of the Smart City Laboratory presented a digital platform that could strengthen the commitment of Darmstadt's citizens to urban greenery. The idea: using 3D visualisations and mapping, for example, everyone should be able to see quickly and easily which young trees need water, shade or something else. Ideally, the residents of Darmstadt could then take action themselves. Because, like many other cities, Darmstadt is struggling with increasing drought and warming.
Creating green spaces can help counteract this trend. While glass facades and concrete act as heat storage, trees and avenues provide cooling shade, especially in summer. And while rainwater rolls off sealed asphalt surfaces, it slowly seeps into the loose soil of beds and cools the areas close to the ground. Professor Jochen Hack, professor of digital environmental planning at the University of Hannover, explained what such a 'green infrastructure' can do for Darmstadt and could possibly do even more in the future. According to him, urban greenery has a whole range of benefits. Sustainable urban development will have to take even greater account of biodiversity as an ecosystem and its function as a water reservoir and cooling factor, as well as its value for leisure and health. There are a number of positive effects that speak for a more intense greening of our urban habitats. Only a portion of it remains limited to public green spaces and parks. Much of this is due to the largely underused possibilities on facades, on roofs or in inner courtyards. Private property owners and tenants in particular are therefore invited to be proactive and get involved in the city's greenery. However, when greening urban areas, technical, organisational and legal issues are also involved. A digital platform can help ensure that relevant information is available at an early stage. However, it must be implemented in close coordination with the municipal authorities. For example, not every seed proves to be a useful contribution and not every free space is easy to use. To support the municipal society's joint commitment to nature, environment and water in Darmstadt, members of the Smart City Laboratory are currently developing the prototype of a digital platform. In the second part of the Learning Workshop event, the initiators – Dr Michael Kreutzer from Fraunhofer SIT and Dr Joachim Rix from Fraunhofer IGD – explained how such a platform works and could look in the future. Ivan Iovine from Fraunhofer IGD then gave an initial insight into how the map prototype works, as of April 2021. You can see a summary of the event in the video and in the presentations:
Presentation "Darmstadt in 3D" by Dr. Joachim Rix as >PDF<
Presentation Environment and water in Darmstadt by Professor Jochen Hack as >PDF<
About the speakers
As stakeholders in the Smart City Laboratory, the speakers of the evening are committed to its continuous development. In this context, they initiated the Environment/water participatory project and launched the interactive environmental map for Darmstadt. Professor Jochen Hack is professor of digital environmental planning at the University of Hannover. Dr Michael Kreutzer coordinates the Smart City and Smart Region projects at the Fraunhofer Institute for Secure Information Technology SIT. Dr Joachim Rix () and Ivan Iovine are working on interactive 2D and 3D visualisations of geodata at the Fraunhofer Institute for Computer Graphics Research IGD.
Field of action