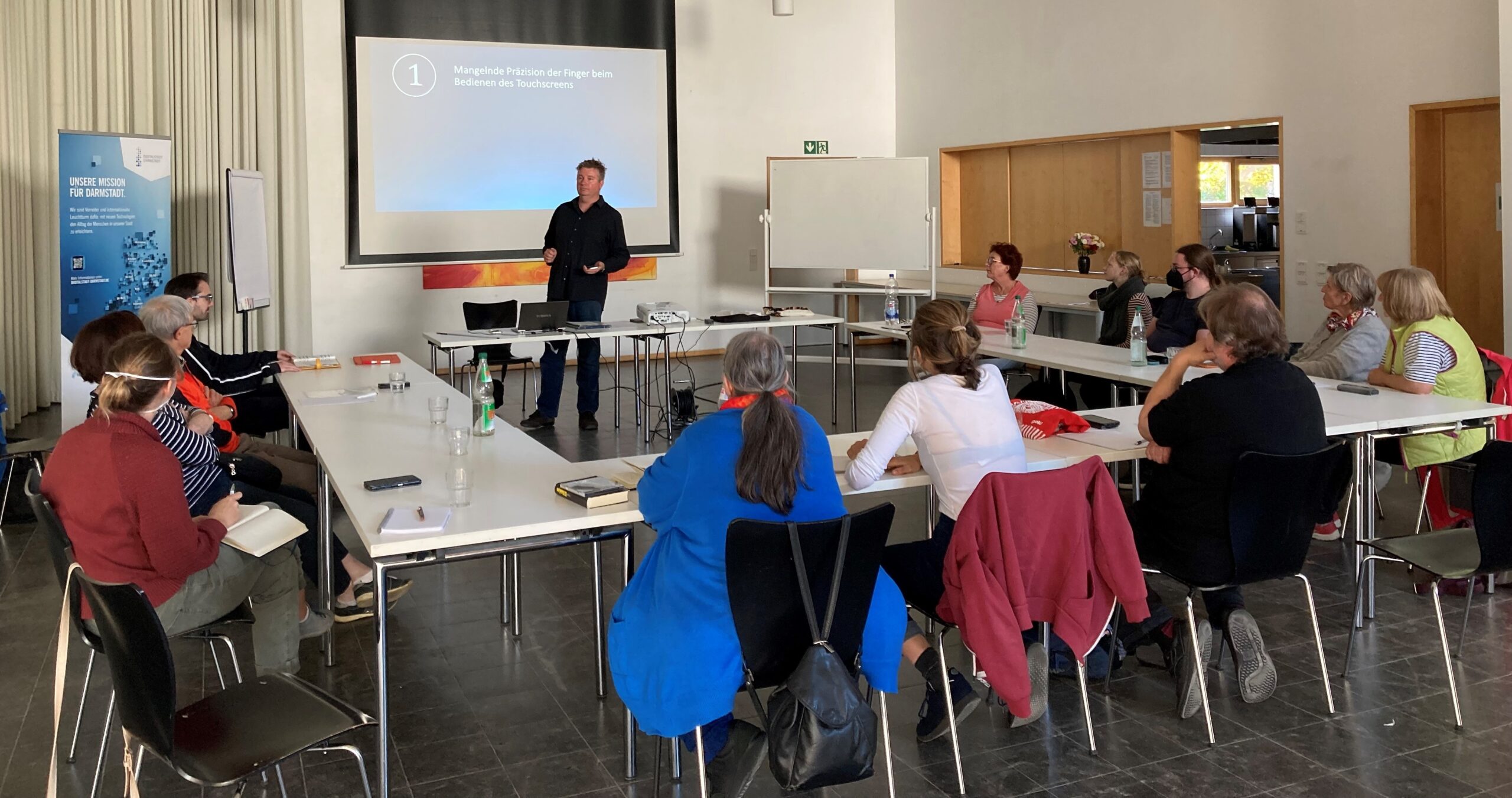 Some seniors need support in using their own smartphone to make it a useful helper in everyday life. Volunteers in geriatric care in particular are often approached to help out with individual problems with the device. They themselves are not always in a position to provide pedagogically sound guidance. The Mobile Stadtlabor therefore supported volunteers from the Muckerhaus Arheilgen in offering targeted help with smartphone-related questions and acting as multipliers to help older people find their way safely in the digital world.
The course was led by Thorsten Hecht from the VHS Darmstadt, who was actively supported by two employees of Digitalstadt Darmstadt GmbH (Nancy Teichmann and Anne Weisel).
In the two-hour opening session, the twelve participants first learned about the pedagogical basics of teaching smartphone content. "How can I help them overcome their fear of the new technology?" was one of the questions for which the course instructor gave important tips. Other topics covered on this day included needs-oriented, simple and regular communication of new content, as well as the basics of online security.
On the two subsequent dates, the participants were able to expand their own knowledge on the subject of smartphones. Course instructor Thorsten Hecht showed them, for example, the most important settings and operating basics and gave tips on managing photos and contacts, navigating the Play Store and dealing with apps. Questions about the iOS operating system were answered by Apple expert Steffen Albus.
At the end of the three-day training, the volunteers took away a lot of new knowledge about using smartphones, which they can now pass on to senior citizens in their communities.
At the end of the training program, all participants agreed that the Mobile City Laboratory should come back!
This three-part training program was implemented in cooperation with the VHS Darmstadt.