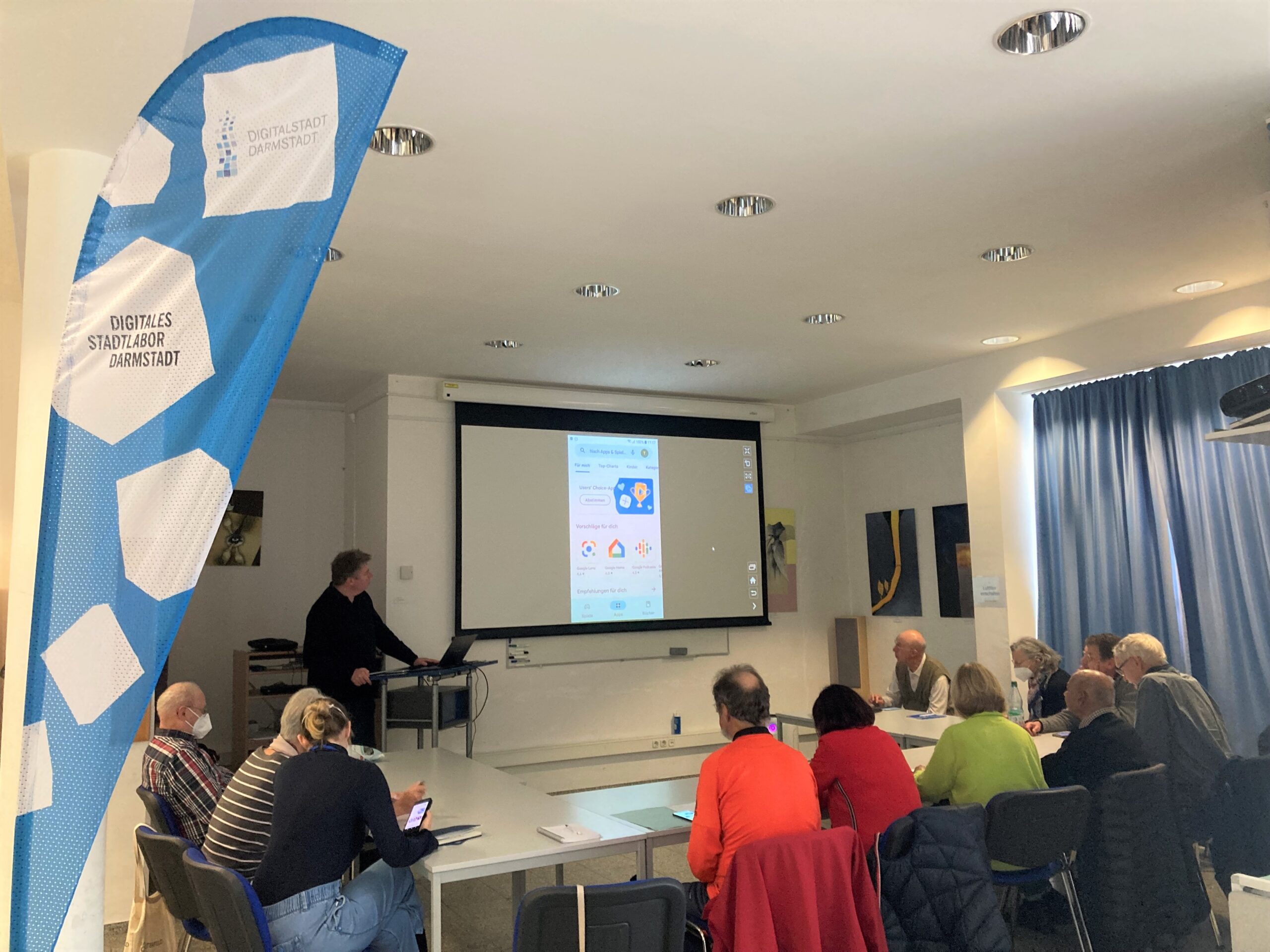 Smartphones are now part of the everyday lives of many senior citizens. But the operation of the devices is often not self-explanatory. The Mobile City Laboratory of Digitalstadt Darmstadt GmbH supports older people in taking their first steps on the device.
At the end of October 2022, a joint project started in cooperation with the Akademie 55plus and the VHS Darmstadt. In a two-hour basic course, Thorsten Hecht from the VHS Darmstadt explained to eleven members of the Akademie 55plus step by step and in an easy-to-understand manner how to use their own Android device. The course instructor was supported by Nancy Teichmann and Anne Weisel from Digitalstadt Darmstadt GmbH, who assisted the participants with individual questions.
The content of the two-part series of events in the lecture rooms of the Akademie 55plus was geared to the questions, wishes and interests of the course participants. Topics were, for example, the final deletion of apps or the management of notification sounds.
On the first day of the course, the seniors gained increasing confidence in using the basic operation of their smartphones. Among other things, important settings and functions of the device were explained. Questions such as "What is the difference between WLAN and mobile data?" or "Where can I find which setting in my device?" were also answered during this morning. The participants quickly realized that some settings and functions visually differed from device to device. However, all ambiguities were quickly resolved in a joint meeting. Managing contacts and photos was also part of the first day of the course.
On the second date, the members of the Academy 55plus were able to practice making phone calls and writing short messages. Another big topic was the navigation and use of the Play Store. "How can I tell that an app is free?" or "Which provider is trustworthy?" were two of the important questions asked by the course participants. In addition, some useful apps, such as online map services, the online encyclopedia Wikipedia or free radio apps were introduced and their installation on the user's own device was explained.
In 2023, the Mobile City Lab will again be a guest at the Akademie 55plus and offer further support services.