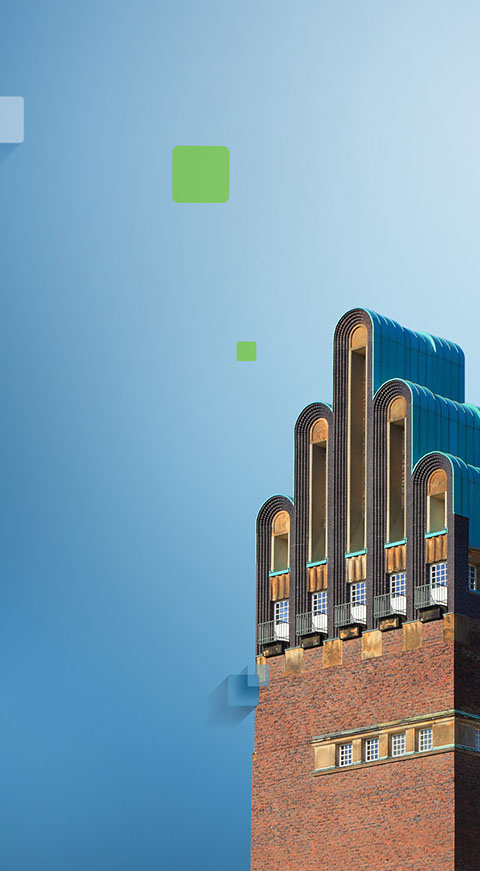 Future History – "Mathildenhöhe Darmstadt"
A virtual journey through time over the Mathildenhöhe Darmstadt
The Mathildenhöhe Darmstadt app is a 'virtual journey through time' that uses future history technology to make guided tours of the Mathildenhöhe digitally and thus more interactive.
On traditional city tours, tour guides invite those interested to take a journey through the history of a city, its buildings and its people – usually in words and on-site in a group.
The Mathildenhöhe Darmstadt app organises tours of the Mathidenhöhe digitally and thus more interactively. With Future History, historical views can be displayed on smartphones using AR (augmented reality) using a swipe function and positioned over current viewing angles. This way, you can impressively see what has changed, what has remained the same.
You can find more information about the app here.
Since June 2020, digital tours in Darmstadt using the Future History app have included Darmstadt's city centre as well as the Mathildenhöhe artists' colony.
Click here for the downtown tour.
What is the use of
Interesting virtual time travel on-site through Darmstadt's past, present and future
Tour guides can use the app to enrich their tours
Texts, images and audio contributions (for example from already existing audio guides) are included
Who benefits from it
All citizens that are interested
Visitors
Field of action